New Pokemon Games - The Loop
Play Sound

"

It is now clear that these beans are being stalked. Leave no bean behind!

"

—Crazy Dave
Save Our Seeds III was the third and last Save Our Seeds level of Pirate Seas in the Chinese version of Plants vs. Zombies 2. The player would have to protect five Spring Beans in this level. When this level was finished for the first time, the player got a star.
Dialogue
(Crazy Dave appears)
Crazy Dave: It is now clear that these beans are being stalked.
Crazy Dave: Leave no bean behind!
(Crazy Dave leaves)
Difficulty
This level is hard, especially when the player doesn't choose the right plants.
Spring Beans are all placed up to the planks and the edge of the player's ship (specifically known as landing points for Swashbuckler Zombies, making them vulnerable to those, Imp Cannons, and Zombie Parrots. Also, plants planted on planks are very easily eaten). The level will be really hard because of the constant assaults of Swashbuckler Zombies and Imp Cannons.
The Coconut Cannon is recommended to beat the level. But if the player doesn't have it, there are still plenty of other good plants to choose from, like Bloomerang or Repeater.
Potato Mines are completely useless in this level, as the endangered plants are all on planks, which is the place that Potato Mines cannot be planted.
Strategy
Required plants:
Plant two columns of Twin Sunflowers. Use Iceberg Lettuces to delay zombies for the first stage. Be careful of the Swashbuckler Zombie and Seagull Zombie.
During the first wave, quickly plant Bonk Choys behind the Spring Beans in plankless lanes and in front of Spring Beans on lanes with planks. Then plant Wall-nuts on lanes with planks, in front of the Bonk Choys.
Plant Bloomerangs as much as you can to use them as your main attack plants. Replace Twin Sunflowers with Bloomerangs to plant more.
Gallery
Walkthroughs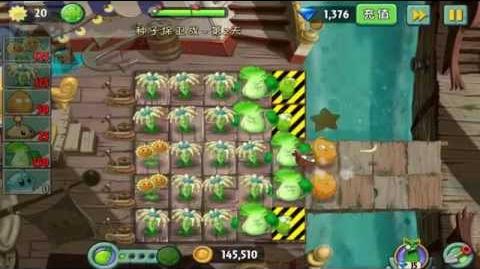 * A gate can be unlocked with a key after completing this level
^ Conjectural name