Plants vs. Zombies Garden Warfare 2 Sandy Sands Gameplay Reveal Live from PopCap
This article is under construction and requires more content. You can help our wiki by
expanding it
.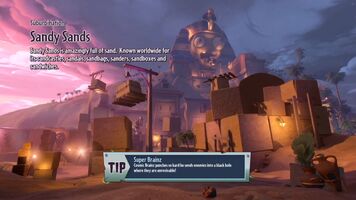 Sandy Sands is a map in Plants vs. Zombies: Garden Warfare 2. It was shown in a livestream of the game being played on January 29, 2016. It is shown to be a desert/Egypt-themed map during a large sandstorm, meaning that you can't see very far and can only see close things around you. This is part of some new dynamic weather that was introduced to the game.
Game modes in which it appears
Description
Sandy Sands is amazingly full of sand. Known worldwide for its sandcastles, sandals, sandbags, sanders, sandboxes and sandwiches.
There are two hidden Golden Gnomes in this map:
One is hidden in a vase on top of a doorway near the marketplace.
The other is located near the river. There is a hidden Mushroom Button on one of the nearby buildings. Shooting it will cause a boat with the Golden Gnome to float near the shore. The player needs to be careful about getting close to collect it, as they might fall into the river. If the player doesn't collect it fast enough, the boat will float away, and the player will have to repeat the process.
Gallery
Trivia
Community content is available under
CC-BY-SA
unless otherwise noted.