Introducing Rux Plants vs. Zombies Garden Warfare 2 Live From PopCap
Play Sound
"

Let me guess, my flashy inventory caught your eye? Listen kid, I only sell top of the line wares! Rare items like you've never seen before...along with anything else I can scrounge out! I doubt you can afford what I'm dealing...

"

—Rux the Deal Breaker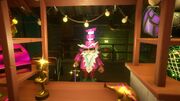 Rux (known as Rux the Deal Breaker when talking to him) is a character who was released in the Trials of Gnomus DLC in Plants vs. Zombies: Garden Warfare 2. He is found in the plant and zombie base and owns a shop called "Rux's Bazaar." When the player speaks to him, he will show the player Customizations for them to buy for large sums of coins. Rare Customizations cost between 10,000 and 50,000 coins, Special Customizations cost 250,000 coins, normal legendary customizations cost between 300,000, exclusive legendary customizations cost 500,000, and exclusive abilities also cost 500,000 coins. "Classic" items, referring to gestures and customizations from the original Garden Warfare, are 50,000. And finally, Legendary character pieces cost 1,000,000 coins. His stocks change each time he appears.
Rux returns in Plants vs. Zombies: Battle for Neighborville, selling items for Rainbow Stars instead of coins.
Rux's Bazaar appearance timeline
Trivia
He and Mr. Lucky are the only Gnomes that will not try to kill the player.

They are also the only Gnomes that can't be hurt by the player.

He is the only known Gnome to wear pink while the rest wear either red, green, blue or yellow.
When near his shop, a green radio will play music from Infinity Time.
Before the Trials of Gnomus DLC was released, his shop could be seen under construction. The day before the Trials of Gnomus DLC was released, his shop was finished, but was closed.
According to a message that appeared in the player's mailbox, Rux has a grandmother who he refers to as "Grammy-gnome".
It is possible that some of Rux's voice clips are a high-pitched voice of Gnomus the Gnome King.
It is possible that Rux is a parody of Xur, an exotic item vendor from the game Destiny, given that they are both elusive vendors and they only appear during certain times, not to mention that the name "Rux" is the reversal of "Xur". The color of his briefcase matches Destiny's exotic item color, gold.
There are 2 Destiny ghost shells hidden in his beard found only on PopCap's official photo of Rux 

but not on his in-game character model.
As of the September 2018 update, Rux has moved to the plant and zombie base, near where the World Hub used to be.
There is an insanely small chance of having every item he is selling for 25,000 coins.
     He might have been referred from King Gnomus, who may say " One gnome left the Gnomiverse on VERY bad terms!",  because he became a card dealer for the plants and zombies.