This subject currently has no proper strategy associated with it. If you have figured out a good strategy, please
add it
or the zombies will eat your brains!

For the plant in Plants vs. Zombies 2 that this line is based on, see Zorrose.
The Rose line (玫瑰系; pinyin: méiguī xì) is a Class S Tenacious plant line in Plants vs. Zombies: All Stars which was introduced in the 1.0.104 update, alongside Neon Mixtape Tour.
The line consists of Sword Disciple (剑术门徒; pinyin: jiànshù méntú), Zorrose (玫瑰剑客; pinyin: méiguī jiànkè), and Sword Master (剑术大师; pinyin: Jiànshù dàshī). They all attack by stabbing with their swords.
Origins
All members on the Rose line are based on the Zorrose from the Chinese version of Plants vs. Zombies 2, albeit in different colors.
The different colors of the individual evolutions are also based on the many different colors roses can come in.
Almanac entry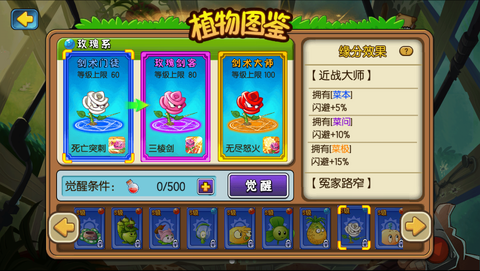 Ways to obtain
Rose line can only be unlocked during time limited events. Additional puzzle pieces can be obtained through Soulmates Puzzle system.
Abilities
Abilities are unlocked by tiering up, while their effect is increased through star leveling.
Tier
Effect
Description
1

Thorn Apart
[Active]
Deals damage to two closest enemies in each lane and makes them bleed.
Bleeding enemies take damage equal to 50% of their attack each turn.
Bleeding effect can stack.
2

Three-sided Sword
[Passive]
Damage dealt restores some health back.
3

Infinite Anger
[Passive]
Loses 10% of its health and generates wrath off of it.
Star leveling
After unlocking the Rose line, additional puzzle pieces can be used to upgrade it, which increases its stats and ability LVs.
Note: Despite the fact that abilities of this line can't be upgraded, in-game description still mentions such possibility.
Stars
Puzzle Pieces& required
Upgrade
Coins
Stars
Puzzle Pieces& required
Upgrade
Coins
1
0
+439

+439

0k
1
40
+873
100k
2
2
+256
1k
2
40
+167
121k
3
4
Dodge+292
4k
3
50
Dodge+960
144k
4
8
+294
9k
4
50
+1010
169k
5
15
+501

AbilityLv2

16k
5
60
+168

AbilityLv4

196k
1
15
+369
25k
1
60
+208
225k
2
20
+609
36k
2
70
+1034
256k
3
20
Rigid+223
49k
3
70
Rigid+460
289k
4
30
+740
64k
4
80
+272
324k
5
30
+144

AbilityLv3

81k
5
80
+1089

AbilityLv5

361k
Soulmates
Rose line stats will be increased if these specific plants are unlocked.
Gallery
General
Sword Disciple
Zorrose
Sword Master
Community content is available under
CC-BY-SA
unless otherwise noted.