Fire Emblem Warriors: Three Hopes - The Loop
Play Sound
Not to be confused with the Wild West Gargantuar.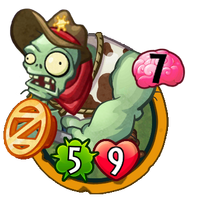 Rodeo Gargantuar is a premium rare zombie card in Plants vs. Zombies Heroes and a member of the

Hearty class. He costs 7

to play and has 5

/9

. He has the Gravestone trait, and his ability moves a selected plant onto a selected lane when he is revealed. His closest plant counterpart is Whipvine.
Origins

He is based on Wild West Gargantuar, and also partially based on Sheriff Gargantuar as well.
His description may refer to the expression "It's not my first rodeo."
Statistics
Class: Hearty
Tribes: Sports Gargantuar Zombie
Trait: Gravestone
Ability: When revealed: Move a Plant.
Set - Rarity: Premium - Rare
Card description
Why yes, this IS his first rodeo.
Update history
Update 1.2.11
▲

Health change: 8 → 9

▼

Brain cost change: 6 → 7
Strategies
With
Rodeo Gargantuar is basically a Sumo Wrestler with increased stats and the added Gargantuar tribe. And just like Sumo Wrestler, his ability can be used to reposition plants onto unfavorable positions. However, this does not mean he can completely substitute Sumo Wrestler; due to him being much more expensive, Rodeo Gargantuar cannot be easily played any time you need to move a plant, unlike the former. You have to make use of his high stats (which, although only average, is pretty decent) and tribe synergy to allow him to differentiate from his cheaper version.
All Hearty heroes can use Zombie Coach to shield him, as well as Team Mascot to boost his stats due to him being a sports zombie. They also have access to Gargologist, who will allow Rodeo Gargantuar to be played much earlier.
The Smash and Neptuna can both play Possessed on Rodeo Gargantuar, which will give him

Frenzy on top of even more health, but the similarities end there. The Smash can combine him with Smashing Gargantuar if Possessed is unavailable and boost Rodeo Gargantuar's stats more easily. Meanwhile, Neptuna can boost him with Headstone Carver since Rodeo Gargantuar has the Gravestone trait, although the chances of Headstone Carver surviving until turn 7 are very slim. She can also pair this with Mixed-Up Gravedigger, Cursed Gargolith, or her superpower, In-Crypted, to reactivate Rodeo Gargantuar's ability. Z-Mech also has access to Grave Robber to take advantage of his Gravestone trait. As Rustbolt, you can pair him up with Wizard Gargantuar to move a plant out of Wizard Gargantuar's lane to land 6 guaranteed damage on your opponent, with Rodeo Gargantuar himself having the

Bullseye trait as well.
Against
If you notice a Hearty hero playing only one gravestone and nothing else late-game, there is a chance that they have played Rodeo Gargantuar. If you manage to remove him while still in his gravestone via anti-gravestone cards like Grave Buster, your opponent may not be able to do anything since they will probably have spent all their brains on playing Rodeo Gargantuar.
If Rodeo Gargantuar gets on the field, dealing with him in combat will not be easy due to his immense health and plant-moving ability. If you don't have instant-kills to instantly finish him off, try making the job easier by lowering his stats or strategizing and determining potential spots where your opponent will move the plant. For example, if there are only two empty lanes, you can play a strong plant on Rodeo Gargantuar's lane to force him to move it to an empty lane, where it can hurt your opponent a lot. (Depending on the plant, the aquatic lane may or may not count.) However, keep track of plants that have the Team-Up trait; since they allow another plant to be on their lane, lanes with such plants count as empty lanes.
The hero you should watch out for the most would be The Smash, as his Beastly cards synergize well with Rodeo Gargantuar. If you see any Smashing Gargantuars, Supernova Gargantuars or Kings of the Grill on the field, you will have to take them out one by one before they can finish you off. Play Doom-Shroom to shut them down.
Gallery
Plants vs. Zombies Wiki
has a
gallery
for Rodeo Gargantuar.
Trivia
For some reason, he is smaller than the other Gargantuars in the game.
On Z-Mech's ally pack and the Mega Monster Pack, Rodeo Gargantuar can be seen holding a lasso. This lasso is used when he activates his ability.
See also