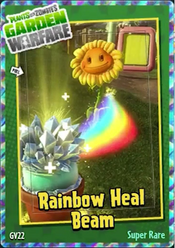 Rainbow Heal Beam is an alternate ability of the Sunflower's Heal Beam. Unlike most other alternate abilities, it only changes the appearance of the Heal Beam to a rainbow color and does not change the original's effect. Like most of the other alternate abilities, it was first introduced in the Garden Variety DLC.
Stickerbook description

The Rainbow Heal Beam is exactly the same as the standard Heal Beam, but it's rainbow colored! It heals faster as well. OK, no that's a lie. It's colorful!
Strategies
See Heal Beam.
Trivia
See also