This subject currently has no proper strategy associated with it. If you have figured out a good strategy, please
add it
or the zombies will eat your brains!

This article is under construction and requires more content. You can help our wiki by
expanding it
.
For other uses, see Rafflesia (disambiguation).
The Rafflesia line (大王系; pinyin: dàwáng xì) is a Class S

Brave plant line in Plants vs. Zombies: All Stars which was introduced in the 1.0.104 update.
The line consists of Venomous Flower (噬毒花; pinyin: shì dú huā), Rafflesia (大王花; pinyin: dàwáng huā), and Royal Rafflesia (帝王花; pinyin: àn yīng cǎo). They all specialize in poisoning and exploding enemies and attack them by firing spore bubbles. They all attack two different enemies at once and apply one poison effect to them on normal attacks.
Origins

All members on the Rafflesia line based on the plants from the Rafflesia genus which are native to Southeast Asia. Appearance-wise (especially in Rafflesia's case), they are based on the plant of the same name from the Chinese version of Plants vs. Zombies 2.
Royal Rafflesia's Chinese name, 帝王花 (lit: "Emperor Flower"), is a play on Rafflesia's Chinese name, 大王花 (lit: "King Flower"), as an Emperor would be considered a higher rank than a king, hence Royal Rafflesia's position as a higher tier than Rafflesia's.
Almanac entry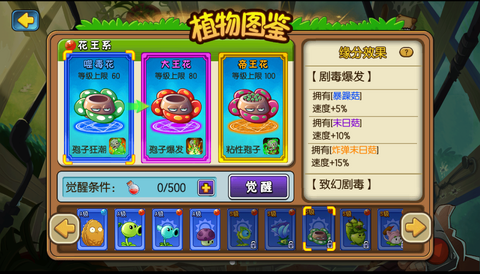 Ways to obtain
Rafflesia line can only be unlocked during time limited events. Additional puzzle pieces can be obtained through Soulmates Puzzle system.
Abilities
Abilities are unlocked by tiering up, while their effect is increased through star leveling.
Note: 10(+5)% means that at LV1 this ability has a 10% on LV1, 15% on LV2 and so on.
Tier
Effect
Description
1

Spore Madness
[Active]
Deals damage to three random enemies and poisons them twice.
Each poison counter deals damage equal to 15% of target's attack each turn.
2

Spore-plosion
[Passive]
Each third attack on poisoned enemy causes an explosion.
Additional damage 114(+114).
 3

Viscous Spores
[Passive]
Spore-plosion now deals damage in a cross-shaped area.
Additional damage 114(+114).
Star leveling
After unlocking the Rafflesia line, additional puzzle pieces can be used to upgrade it, which increases its stats and ability LVs.
Stars
Puzzle Pieces& required
Upgrade
Coins
Stars
Puzzle Pieces& required
Upgrade
Coins
1
0
+298
0k
1
40
+159
100k
2
2
+99
1k
2
40
+881
121k
3
4
Crit+104
4k
3
50
Crit+341
144k
4
8
+117
9k
4
50
+919
169k
5
15
+482

AbilityLv2

16k
5
60
+175

AbilityLv4

196k
1
15
+420
25k
1
60
+1004
225k
2
20
+124
36k
2
70
+191
256k
3
20
Crit+223
49k
3
70
Crit+460
289k
4
30
+688
64k
4
80
+189
324k
5
30
+135

AbilityLv3

81k
5
80
+239

AbilityLv5

361k
Soulmates
Rafflesia line stats will be increased if these specific plants are unlocked.
Gallery
Plants vs. Zombies Wiki
has a
gallery
for Rafflesia line.
Trivia
Although Rafflesia already has a unique appearance for Plants vs. Zombies: All Stars, it reuses its Plants vs. Zombies 2 design.
Community content is available under
CC-BY-SA
unless otherwise noted.