Raise a Floppa - The Loop
Play Sound

For the version in Plants vs. Zombies: All Stars, see Radish (PvZ: AS).
Radish (白萝卜; pinyin: bái luóbo) is the first plant obtained in Kongfu World in the Chinese version of Plants vs. Zombies 2. In exchange for having lower health than a Wall-nut, he cannot be pulled by Qigong Zombie or Qigong Bronze or sucked in by a black hole. Additionally, plants behind him cannot be pulled or sucked into a black hole as well.
Origins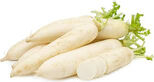 Radish is based on the daikon (Raphanus sativus longipinnatus) (a mild-flavored winter radish usually characterized by fast-growing leaves and a long white napiform root), but his appearance resembles more a sakurajima radish (Raphanus sativus hortensis gigantissimus).
Almanac entry
Note: In-game, Radish's toughness is Elevated and his recharge is Fast.
白萝卜 (Radish)
Sun cost: 125
TOUGHNESS: High
RECHARGE: Sluggish
稳固地立在地上,抵抗气功僵尸的法术和时空黑洞的吞噬。
植物特征:白色植物
白萝卜学了很多年气功, 但他一直都只会一招: 纹丝不动。
In English:

Radish stands firm and resists the magic from Qigong Zombies and Black Holes' suction.

Plant feature: white plant


Radish has studied qigong for many years, but the only technique he's learned is not moving an inch.
Upgrades
Plant Food effect
When fed Plant Food, he will spawn a clone of himself.
Costumed
He spawns two clones of himself instead.
Level upgrades
Level
Upgrades
Description

Self Defense
自我防卫
Gains a weak short-ranged melee attack.

Combat Training
战斗训练
Radish gains 50% more attack power and health (150% of initial).

Armed Training
武装训练
The attack is twice as powerful

Cell Activation
细胞活化
Radish gains another 50% more attack power and health (200% of initial).

Ability Awaken
能力觉醒
Radish may be boosted when planted.

Fighting Power
战斗能力
Radish gains another 50% more attack power and health (250% of initial).
Strategies
This plant is useful in levels with black holes and the Qigong Zombie. Try to plant a Radish in front of offensive plants to prevent them from being pulled away. It is not recommended to use it against Mecha-Football Zombie or Fisherman Zombie since they will just push or pull them. Against the Gunpowder Devil, Radish can help, as it summons Qigong Zombies.
He is also useful as a weaker and quicker version of Wall-nut, due to having a fast recharge and same cost. However, Primal Wall-nut will quickly take that role with his higher health at a slightly higher sun cost.
Gallery
Plants vs. Zombies Wiki
has a
gallery
for Radish.
Trivia
He, Infi-nut, Chard Guard, Endurian, and Celery Stalker are the only defensive plants to have Elevated toughness.
He is the first of three defensive plants that have a Fast recharge. The other ones are Red Stinger (when planted far from player's house) and Primal Wall-nut.
As he is buried into the earth, he cannot be planted on wooden planks in Pirate Seas. He shares this trait with Potato Mine, Bamboo-shoot, Cactus, Celery Stalker, Primal Potato Mine, Escape Root, Olive Pit, Bambrook and Lotus Root.
Like Tall-nut and Garlic (both only in the first game), he cries when he is low on health.
Despite being able to resist the pull of Qigong Zombie, Radish cannot resist the push of the Mecha-Football Zombie or the pull of Fisherman Zombie.
When fed with Plant Food, he makes the same noise that Potato Mine makes when Plant Food is used on him.
His recharge is very unique, as he will only start recharging after the player collects the second sun.
He and Trump Tulip both gain another ability when they are leveled up.
See also