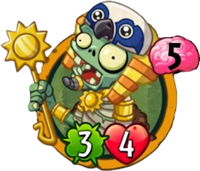 For other uses, see Ra Zombie (disambiguation).
Ra Zombie is a premium uncommon zombie card in Plants vs. Zombies Heroes, and a member of the

Hearty class. He costs 6

to play, and has 3

/4

. He does not have any traits, and his ability takes away 2

from the plant hero on the turn he is played.
Origin
He is based on the zombie in Plants vs. Zombies 2 with the same name and appearance.
His ability is a reference to his ability in Plants vs. Zombies 2, to steal sun from the sky or the player's sun-producing plants.
Statistics
Class: Hearty
Tribe: History Zombie
Traits: None
Ability: When played: The Plant Hero loses 2 this turn.
Set - Rarity: Premium - Uncommon
Card description
Some nights sundown comes early...
Strategies
With
Ra Zombie is a very expensive card, and has very lackluster stats to help it, so it is not a card that should be played by itself, or as an independent play. As most competitive players call these kind of cards, it is a "win-more" card, a card that has an ability that only truly benefits if you are leading the game.
Ra Zombie can work in decks where it plays in a tempo-like playstyle, where you take it slowly at a time, still trying to keep ahead, and if you manage to keep yourself stable enough for the whole game, you can use Ra Zombie to put your opponent even more on the behind, but it is really recommended if you have enough support, than just playing it when the field is empty.
Mainly because Ra Zombie can't support itself, it is too weak and its ability only lasts for this turn, it needs to benefit in a situation where you are even or in control of the game, otherwise you are going to find yourself playing very slowly with this card.
There are pretty obvious uses for this, like making expensive threats delay, but what is really important to strive for when trying to make use of Ra Zombie is trying to seize the field with your zombies first.
Though, Ra Zombie is arguably one of the worst cards in the game, and is really highly recommended to find alternatives for once you get better cards because it suffers from its lack of good stats to support itself, lack of any synergy, and a rather dependent style of play.
Against
If you find yourself matched with Ra Zombie, you need to focus on rethinking your original play, and try to stay in the lead. It all really matters on how Ra Zombie was played. If Ra Zombie is played at a point of the game where you're leading, Ra Zombie is no threat by any means, and doesn't even require blocking it with a plant.
If the board for zombies is looking a little too big, you might need to try to jump back into the game (either this turn, or the next) by trying to gain some tempo through any means, or using one of your deck finishers.
Though, even if it is a pathetic play, you still have to re-think your own play, and plan your next move because Ra Zombie can be a little bit of a hindrance to overall strategy, and tempo, if that is your deck archetype. Obviously, you can combat the reduction of sun with Sunflowers, and other sun-producers, but it's not really worth doing at such a point in the game, because it is solely temporary for the turn.
Gallery
Plants vs. Zombies Wiki
has a
gallery
for Ra Zombie (PvZH).
Trivia
He is currently the most expensive uncommon zombie in the game.
See also