Fire Emblem Warriors: Three Hopes - The Loop
Play Sound

"

Plant Pyre Vines on other plants for warming against cold and a fiery offensive boost!

"
Pyre Vine is a plant in Plants vs. Zombies 2, that was first introduced in the 7.6.1 update. He is a seasonal plant and also featured in Pyre Vine's Searing Season.
Pyre Vine is immune to frost and warms nearby plants every 1.5 seconds. He also has a short-ranged incendiary area attack that covers two tiles ahead.
Origins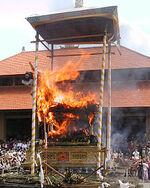 Due to his similar appearance to Blastberry Vine and fiery attributes, Pyre Vine is based on the fireberry hawthorn (Crataegus chrysocarpa), a species of hawthorn that is native to much of the continental United States and Canada. The word "fire" in the plant's name contributes to the word "Pyre" in Pyre Vine's as well as his fiery powers and abilities.
Pyre Vine's name and appearance is also is based on a pyre, a structure (typically consisting of wood) that is meant to be burnt as part of a funeral or ritual. Additionally, he also bears a resemblance to the female anglerfish, a bony fish in the order Lophiiformes named for her characteristic mode of predation with a fleshy growth from her head that acts as a lure towards other fish (despite being male).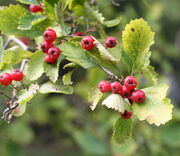 Almanac entry
Note: The stats shown below only apply to Level 1.
Pyre Vine

SUN COST: 125
RECHARGE: 10

TOUGHNESS: 300
DAMAGE: 30

FLAME LENGTH: 2
SPECIAL: Warming Radius

Pyre Vines can be planted on top of other plants to provide protection from cold plus an additional close range flame attack.

Pyre Vine considers his holdings, his fortune, his vast hoard of wealth. He feels it should please him, and yet nevertheless he is anxious and fearful.
Pyre Vine

SUN COST: 125
RECHARGE: 10
TOUGHNESS: 300
DAMAGE: 30
FLAME LENGTH: 2
SPECIAL: Warming Radius
Pyre Vines can be planted on top of other plants to provide protection from cold plus an additional close range flame attack.
Pyre Vine considers his holdings, his fortune, his vast hoard of wealth. He feels it should please him, and yet nevertheless he is anxious and fearful.
Upgrades
Plant Food effect
When fed with Plant Food, Pyre Vine will set the whole lane on fire, dealing 1800 DPS to all zombies in the lane, in a similar fashion to that of the Fire Peashooter, but also with the ability to attack zombies behind. Any plant on him will also activate its own Plant Food effect.

Pepper-mint effect
When boosted by Pepper-mint, Pyre Vine's short-range flame attack damage is increased by 130 DPS and will always reach five tiles. His Plant Food damage is increased by 2400 DPS, he will also warm plants in a larger area as at level 10 and the damage he deals to ice is increased to 500 DPS.
Level upgrades
Level
Seed Packets
Coins
Upgrades
Sun Cost
Recharge
(Mediocre)
Toughness
(Typical)
Damage
(Normal)
Flame
Length
(Tiles)
Special
(Warming
Radius)
Special
(Warming
Damage)
Flame*
Plant Food
1
0
0
125
10 seconds
300 dps
30 dps
1800 dps
2
Normal
200 dps
2
50
9 seconds
330 dps
50 dps
1900 dps
2
300 dps
3
100
100
9 seconds
360 dps
60 dps
2000 dps
3
4
200
8 seconds
390 dps
70 dps
2050 dps
3
5
300
8 seconds
420 dps
80 dps
3
400 dps
6
400
75
7 seconds
450 dps
90 dps
2100 dps
4
7
500
7 seconds
480 dps
100 dps
4
500 dps
8
600
6 seconds
510 dps
110 dps
2200 dps
4
9
800
50
6 seconds
540 dps
120 dps
2300 dps
5
+ 1.7x
10
1,000
5 seconds
600 dps
130 dps
2400 dps
5
+ 2.3x
*Per second.
Mastery upgrades
Chance to Boost
Damage Pierce
Strategies
Although Pyre Vine may appear weak upon first glance, as his damage output may seem lackluster, don't let his appearance fool you - Pyre Vine can be a strikingly effective support plant, even better than Blastberry Vine in some cases. This is for two reasons. Firstly, Pyre Vine has slightly more health than Blastberry Vine, allowing him to withstand slightly more damage than Blastberry Vine, although neither should be used as defensive plants. Secondly, Pyre Vine is exceptionally better at dealing with zombies from a close range, allowing him to synergize a lot better with melee plants compared to Blastberry Vine, but Blastberry Vine works far better with long ranged plants. Although Pyre Vine's damage looks weak, one Pyre Vine can actually solo an infinite amount of basic zombies, and later in the game, Pyre Vine can provide excellent damage support to melee plants such as Bonk Choy, Wasabi Whip, Parsnip, Blockoli, Headbutter Lettuce, and especially Pokra, whose slowing effect doesn't interfere with Pyre Vine's flames.
Pyre Vine is best used towards the front of the lawn, where full use can be made of his damage. Although pairing it with close-range plants is a great idea, you can also pair Pyre Vine with defensive plants, particularly Endurian and Holly Barrier (as well as Torchwood, although he's not strictly defensive), as they'll continue to do damage to nearby zombies even if Pyre Vine is planted on them. Pyre Vine can also be planted on a fully grown Kiwibeast to help protect it.
In addition to that, Pyre Vine is excellent in Frostbite Caves, even in the Endless Zones. Not only does Pyre Vine heat plants around it - and at an accelerated rate compared to all other heating plants - it gives any plant that it's planted on an immunity to frost, making it extremely useful in that world. Pyre Vine is also adept at handling ice blocks so long as there aren't multiple Troglobites in one lane. Pyre Vine's fast heating and constant DPS can quickly take down ice blocks and can usually deal with the zombies inside as well, so long as they don't have an exceedingly high amount of health.
Compared to Blastberry Vine, Pyre Vine doesn't work well if you plant him in the back due to his short-range, although he does works great as a defrosting plant in that case. It also has no impact on his Plant Food ability, as it allows him to hit everything in a single lane anyway.
Pyre Vine becomes much stronger when powered up by Pepper-mint. Not only does he get a substantial damage boost, but his range is increased to 5 tiles, making Pyre Vine an incredibly destructive force in Pepper-mint based strategies or if leveled.
Although Pyre Vine doesn't synergize well with chilling plants such as Winter Melon, it can still be used in combination with them thanks to Pyre Vine's low range, and good DPS allowing for him to help clean up weakened zombies. Plants not using an ice-based slow effect, such as Sap-fling, Goo Peashooter, and Pokra, will generally work better.
Pyre Vine's big weakness is that he needs support to function well, including the support of other early game plants. A Level 1 Pyre Vine fails to kill even Conehead Zombies without assistance, meaning that some support is needed in order to help Pyre Vine deal with zombies. Pyre Vine is also mediocre as a protector, as his health isn't particularly high. Thus, Pyre Vine requires offensive support so that he can make good use of its close-range damage. Putting Pyre Vine in the range of zombies that can't move is helpful, as it can keep attacking the zombie without the risk being eaten. Zombies that fit the category include: Imp Cannon, Zombie King, Fisherman Zombie, Zcorpion Zombie, and Zombot Tuskmaster 10, 000 BC. Placing him in front of obstacles such as tombstones is also effective, as they won't block Pyre Vine's fire attack.
Related achievement
Gallery
Plants vs. Zombies Wiki
has a
gallery
for Pyre Vine.
In other languages
| Language | Name | Description |
| --- | --- | --- |
| English | Pyre Vine | |
| French | Vignescence | |
| German | Scheiter-Ranke | |
| Italian | Rampicante focoso | |
| Brazilian Portuguese | Trepardente | |
| Spanish | Enredadera candelera | |
Trivia
Like Blastberry Vine, he used to be able to be planted on an Imitater that was about to transform into another Pyre Vine, which would result in two copies of him on the same tile.

This was fixed in the 7.7.2 update.

Glitter Zombie can kill Power Mints on Pyre Vines. This is a glitch.
See also