For other uses, see Rafflesia (disambiguation).
Primal Rafflesia (原始大王花; pinyin: yuánshǐ dàwáng huā) is a plant from the Chinese version of Plants vs. Zombies 2. He was added in the 2.0 update.
Primal Rafflesia lobs balls at the zombies then creates a puddle that slows down zombies (similar to Sap-fling). Ten of Primal Rafflesia's Puzzle Pieces can be obtained by purchasing ¥168 worth of in-game items. 30 of Primal Rafflesia's Puzzle Pieces can be obtained if ¥298 is spent, and 60 Puzzle Pieces if ¥398 is spent.
Origins

Like his more modern counterpart, Primal Rafflesia is based on the rafflesia, specifically the corpse lily (Rafflesia arnoldi), a genus of parasitic flowering plants in the family Rafflesiaceae.
His costume references how the Chinese word for "Rafflesia", 大王花, translates literally as "King Flower".
Almanac entry
原始大王花

Primal Rafflesia

原始大王花可以发射毒液球攻击僵尸,并造成缓速效果。

特点: 攻击僵尸时 , 会留下一滩缓逮毒液
植物特征:紫色植物,矮个子

作为植物世界风云榜"越丑越厉害"大奖的获得者,原始大王花看到自己不争气的小辈时只能感叹:"没想到褪了毛之后连战斗力都退化了,战斗力可不是靠吹出来的。"
原始大王花 (Primal Rafflesia)
Sun cost: 450
AREA: Tile
RANGE: Lobbed
RECHARGE: Fast
原始大王花可以发射毒液球攻击僵尸,并造成缓速效果。
特点: 攻击僵尸时 , 会留下一滩缓逮毒液
植物特征:紫色植物,矮个子

作为植物世界风云榜"越丑越厉害"大奖的获得者,原始大王花看到自己不争气的小辈时只能感叹:"没想到褪了毛之后连战斗力都退化了,战斗力可不是靠吹出来的。"
In English:

Primal Rafflesia can launch venom balls to attack zombies and cause slow effect.

Special: When attacking zombies, leave a puddle of venom that causes slow effect
Plant feature: purple plant, short stature

As the winner of the plants' world-ranked "The uglier the stronger" prize, when Primal Rafflesia saw his own weak successor, he could only lament: "Didn't think that the combat power would decrease along with the amount of hair, combat power isn't from bragging."
Upgrades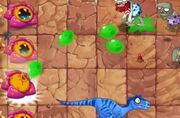 Plant Food effect
When fed Plant Food, Primal Rafflesia lobs 5 venom balls at the random zombies.
Costumed
Primal Rafflesia will now lob purple venom balls, which do more damage.
Level upgrades
Level
Upgrades
Description

Poison Blast
The projectile becomes cyan and have a chance to explode a second time on finishing blow.

Combat Training
Primal Rafflesia gains 50% more attack power and health (150% of initial).

Great Weaponry
Multi-explode plants now have a higher chance.

Cell Activation
Primal Rafflesia gains another 50% more attack power and health (200% of initial).

Ability Awaken
Primal Rafflesia may be boosted when planted.

Fighting Power
Primal Rafflesia gains another 50% more attack power and health (250% of initial).

Cross-explode Shot
Projectile becomes purple and split into 4 (in shape of X) on hit, dealing massive damage.

Fighting Power
Primal Rafflesia gains another 50% more attack power and health (300% of initial).
Strategies
Use Primal Rafflesia at the back lines for maximum advantage as he can provide slowing and decent damage at a reasonable rate. Combine this with some melee plants (e.g. Guerrequila, Zorrose) and you will have a decent combo. Make sure to protect him well with other attacking plants and defensive plants like Primal Wall-nut, as he is quite expensive. Otherwise, using Intensive Carrot would be a good idea if he does manage to get eaten.
Gallery
Trivia
Unlike his normal variant, his projectile is lobbed and can only harm one zombie at a time.
In the teaser, the Primal Rafflesia's seed packet is green (uncommon).
This is the only primal plant that does not have its modern version found in Player's House.

Moreover, this is the only primal plant that has a different ability from it's common version
His old Almanac entry was a play on the phrase "搞个毛啦!" (what's wrong with this!) as 毛 also means fur, referencing on how he has lots of fur being a primal plant.

Primal Rafflesia used to have the shortest Almanac entry description of any plant within the main installments, being only five words in length.

In addition, he had the third-shortest Almanac entry of any plant or zombie within the main-series installments, losing out only to Zombie Chicken and Ice Weasel's one-word long descriptions and Wild West Gargantuar's two-word long description.
His mouth resembles that of a leech.
The Chinese word 吹 in his Almanac can both refer to "brag" and "blow", and the latter may refer to Rafflesia.
Community content is available under
CC-BY-SA
unless otherwise noted.