This article is under construction and requires more content. You can help our wiki by
expanding it
.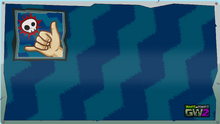 Prance vs Samba is an achievement in Plants vs. Zombies: Garden Warfare 2. To earn it, the player must gesture immediately after vanquishing another player. In the PC version, pressing the arrow keys gestures, and in the console versions, pressing the directional pad on the controller gestures will obtain this achievement if the player does it immediately after vanquishing a foe.
Its name is a play on "Plants vs. Zombies", as well as "prance" and "samba", referring to how most gestures resemble dances.
How would you rate Prance vs Samba's difficulty?