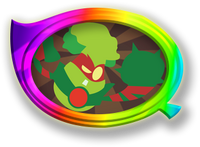 Power Pummel is Grass Knuckles' premium legendary plant signature superpower trick card in Plants vs. Zombies Heroes and a member of the

Mega-Grow and

Guardian classes. It costs 1

to play, and its ability does 2 damage on every ground lane. If a ground lane is not occupied by a zombie, the zombie hero takes damage there instead.
Statistics
Classes: Mega-Grow, Guardian
Tribes: Leafy Superpower Trick
Ability: Attack for 2 damage in each Ground lane.
Rarity: Premium - Legendary
Card description
"Knuckle sandwiches for all my enemies!"
Strategies
With
This card is very useful at the start. If none of the ground lanes are covered, this can normally do 6 damage to the zombie hero. In certain missions, all of the lanes are ground lanes and if you have this, use this as soon as possible as you will strike down 10 health of the zombie hero if not blocked. However, this card is also useful for getting rid of pesky low-health zombies, and as such, you may want to use it for when the zombie hero tries to play many weaker zombies, as Grass Knuckles does not have many other ways to counter rush decks.
Do not use this if the ground lanes are occupied with Knight of the Living Dead or shielded zombies, otherwise they will go unaffected, wasting the superpower.
Against
If Grass Knuckles has this superpower at the start of a battle, then there isn't much you can do, forcing you to accept at least 6 damage (2 damage per zombie in the ground lanes) dealt to your hero. If he has it later in the game, however, make sure you have a zombie in each ground lane that have high health, therefore they will take damage instead of your hero. Planetary Gladiator can also be played on the first turn to protect you from this superpower, but keep in mind that he will be destroyed if it is used on said turn.
Gallery
Old
Trivia
Its description refers to the term "knuckle sandwich," which is a slang term for a punch in the mouth.
This may be a nod to Bonk Choy's Plant Food effect from Plants vs. Zombies 2. Using Plant Food on it will deliver many punches in an area around it, similar to what Grass Knuckles does here.
Community content is available under
CC-BY-SA
unless otherwise noted.