Power Chomper is the Rare electric variant of the Chomper in Plants vs. Zombies: Garden Warfare and Plants vs. Zombies: Garden Warfare 2. He is unlocked through various Sticker Packs and is one of the five electric variants on the Plants side.
Descriptions
Stickerbook description
The Power Chomper studied battle tactics from the Fire Chomper. He charges in on Zombies as well, but instead utilizes an electric spray.
In-game description
Power Chomper deals electric damage, arcing across multiple Zombies!
AI Health (GW2 only)
Easy: 105
Normal: 140
Hard: 175
CRAAAAAZY: 210
Primary weapon
Electric Spray replaces the main Chomp attack from the normal Chomper. It is only useful at close range, that deals a minor of six to ten major damage continuously as long as it is active. The electricity arcs from zombie to zombie. If used for too long, it will fizzle out, and you will need to wait for two seconds for it to recharge. The Power Chomper is still able to instantly vanquish any enemies from behind, as it is a Chomper variant.
Abilities
Goop
Goop is one of Chomper's only ranged attack. Activating it shoots out a purple spitball in whatever direction the Chomper is facing. If it lands on a Zombie, it covers them in purple goop. While the Zombie is "gooped", it moves slower and cannot turn around as fast. This ability takes 7 seconds to recharge after being used.
Burrow
The Chomper burrows underground and digs in any desired direction. The Chomper cannot be harmed while underground. If the Chomper manages to dig it's way under a Zombie, it can burst out of the ground and eat it. While burrowing, the time remaining in burrow mode is displayed in a meter at the bottom of the screen, called Dig Power. Moving slower will reduce the rate at which the Dig Power is consumed. If the Chomper doesn't move at all while underground, after approximately 15 seconds, it will be forced back to the surface.
Spikeweed
This ability has 3 charges. Chomper deploys a Spikeweed in front of itself. Enemies that stand on it will take 50 damage (25x2) and get hung into the air for a few seconds. While the Spikeweed is holding the Zombie, the Zombie cannot attack. Swallowing Zombies caught in Spikeweeds gives the Chomper another Spikeweed charge. Once the Spikeweed drops the Zombie, the Spikeweed instantly dies. The Spikeweed can be damaged and destroyed by zombies. The spikeweed can also force zombies out of certain abilities such as Big Bolt Blaster, Barrel Blast etc.
Super Sticky Goop
An alternate ability of Goop, Super Sticky Goop completely immobilizes any zombies struck by it, with the same reduced turn speed as normal goop. The downside is that the cool down is almost twice as long as the normal goop (15 seconds), and it deals half the damage as the normal goop.
Sprint Burrow
An alternate ability of Burrow, Sprint Burrow is a faster, but shorter version of Burrow.
Spiky Spikeweed
An alternate ability of Spikeweed, Spiky Spikeweed does increased damage to zombies caught for a total of 70 damage (35x2 damage). The downside is that only two can be stockpiled at a time, versus the regular three.
Cheesy Goop (GW1 only)
An alternate ability of Goop, Cheesy Goop deals much more damage than its two other counterparts (5 with 10 damage over time) however the ability has a much higher cooldown (double that of Goop, like Super Sticky Goop).
Vampweed
An alternate ability of Spikeweed, Vampweed doesn't deal any damage, but it will heal you a total of 40 hp (10x4 hp) and still snaring zombies. Like the Spiky Spikeweed, only 2 can be stockpiled at a time.
Chomp Cannon
An alternate ability of Goop, the Chomp Cannon does not goop zombies, but rather launches a projectile from the Chomper's mouth after a second that deals a great amount of damage if it hits a zombie (100 direct hit, 50 max splash damage). This is useful for attacking Zombies on the rooftops.
Chesterweed (GW1 only)
The Chesterweed attacks at an extremely fast speed, dealing up to 70 damage in 5 seconds. Chompers eating zombies trapped by the Chesterweed will swallow significantly faster, but the Chomper can only have two of them at a time, instead of three. It takes 60 seconds to recharge one Chesterweed.
Weapon upgrades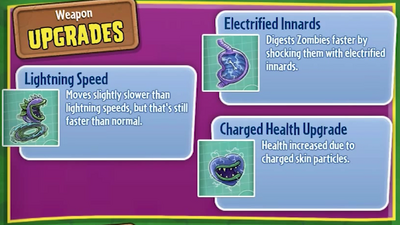 Lightning Speed
Moves slightly slower than lightning speeds, but that's still faster than normal.
Electrified Innards
Digests Zombies faster by shocking them with electrified innards.
Charged Health Upgrade
Health increased due to charged skin particles.
Strategies
Power Chomper must be played as a close-range character, or else your primary weapon will not be able to do anything to opponents. Flanking your opponent is key to using Power Chomper effectively. If you move around your opponent as you attack, you will be able to prevent your opponent from attacking you as you dish out damage. Goop or Sticky Goop can help with this cause.
Balancing changes
▲

Spray damage increased.
▲

Digestion time was decreased after a chomp escape (i.e. victim got away using anti-chomp ability like Jackhammer).

▼

Brought Chompers regeneration delay to parity with all other playable characters.
Tuned Chomper camera to be closer to that in Garden Warfare.

▲

Improved all digestion time upgrade multipliers.
Gallery
Plants vs. Zombies: Garden Warfare
Plants vs. Zombies: Garden Warfare 2
Video
Trivia
According to his description, he studies battle tactics from the Fire Chomper.
His stem is same to a regular Chomper, but with a slight tint of blue.

However, in Garden Warfare 2, his stem is all turquoise.

He also has mini electricity bolts that jump from leaf to leaf on its frill.
He is redesigned in Plants vs. Zombies: Garden Warfare 2. In the aforementioned game, he is now all turquoise colored.