Potato Mine is a major recurring character within the Plants vs. Zombies franchise. Potato Mines take time to arm before exploding on the unlucky zombie who steps on them.
He is frequently given rodent-like features and characteristics, with him even performing rodent-like squeaking in the shooter games.
As of Plants vs. Zombies 3, Potato Mine has appeared in seven games.
Origins

Potato Mine is based on the real-life potato, the starchy, tuberous root portion of the plant Solanum tuberosum. His name is a combination of "potato" and "land mine," an explosive device concealed under or on the ground designed to destroy or disable enemy targets, ranging from combatants to vehicles and tanks.
He was inspired by the film Swiss Family Robinson, as George Fan felt it was satisfying to watch a zombie step on the mine so as to be defeated and covered in mashed potatoes.[1]
Potato Mine's word on the speech bubble when he explodes, "SPUDOW!!", is a portmanteau of "spud" and "pow." His costume is a reference to his sneaky nature.
History

In the original Plants vs. Zombies game, as well as all Chinese spin-off games based on it, Potato Mine is the fifth plant unlocked in the Day set of levels, obtained after beating Level 1-5.
Potato Mine is an explosive plant like Cherry Bomb, but needs time to arm and has a lower range. However; its recharge is faster, it's 125 sun cheaper, and it doesn't explode until a zombie steps on it.

Potato Mine reappears in Plants vs. Zombies 2 as the fourth plant the player receives in the tutorial. He is unlocked after beating Player's House - Day 3 after being introduced as a means to quickly defeat tougher, more healthy zombies.
His main ability has been left unchanged from the original game, he is also a member of the Bombard-mint family, who makes his arming time only a second and allows him to fire five Potato Mines if given Plant Food, rather than the typical amount.

A primal variation of him exists, unlocked after beating Jurassic Marsh - Day 23 which is similar to him, but costs 25 more sun, has a slightly slower recharge with a quicker arming time and a 3x3 range.
Potato Mine appears in all shooter games as an ability for the Cactus. When used, the Cactus will drop him down onto the ground, and like his appearance in the main series games, will explode when stepped on, dealing massive damage to that zombie. However, he can be shot down beforehand, still exploding, but otherwise being relatively harmless.

He has two alternate ability forms, the Potato Nugget Mine which is weaker but allows more to be placed at once and the Pizzazzling Potato Mine, which has no difference from Potato Mine other than being shiny.

Potato Mine next appears in the turn-based mobile card game Plants vs. Zombies Heroes as a 1

1

Root plant with Team-Up in the

Guardian class. When defeated, he will explode, dealing two damage to the zombies in their lane.

Potato Mine also has a Plant hero based on him named Spudow. He leads the

Guardian and

Kabloom classes and specializes in early game defense and late-game offense. Spudow is also notable for being the only in-game instance of a Potato Mine being able to be seen above ground.

Potato Mine's latest appearance is in Plants vs. Zombies 3 as a Common Trap plant. Like Plants vs. Zombies and Plants vs. Zombies 2, he takes time to arm himself before exploding when stepped on. Unlike those two games however, he is completely invincible while arming himself.
His Plant Food ability is like Plants vs. Zombies 2, creating two Potato Mines in random lanes, though unlike Plants vs. Zombies 2, these mines aren't already armed. His Tacobility is the Hothead and allows him to bounce to a random tile to start rearming once he explodes once.
Gallery
Plants vs. Zombies Wiki
has a
gallery
for Potato Mine.
Trivia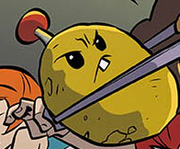 In Plants vs. Zombies: Timepocalypse, one can see Potato Mine's entire body, which resembles the potatoes catapulted when Potato Mine is given Plant Food.
While he doesn't appear in Plants vs. Zombies Adventures, a plant called Popcorn exists that is basically identical to Potato Mine in its ability.
In Plants vs Zombies, he has two teeth, but in Plants vs. Zombies 2, he only has a single tooth.
His appearance resembles that of a mole, as they both are found underground, and both have visible front teeth sticking out.
Reference
See Also
V ·

T

· E

Recurring characters