Pool is the third Adventure Mode area in Plants vs. Zombies. It is the backyard of the house in which the player lives, but unlike the front lawn (where the day and night stages take place) there are six rows on the lawn instead of five. The middle two rows are the pool, which requires the player to plant Lily Pads before most other plants. Before the player buys Pool Cleaners, Lawn Mowers in the pool rows will kill only the first zombie that steps out of the water and then splash into the pool. During the final wave in any pool level, Ducky Tube Zombies of all three types will surface from a 4x2 rectangle at the far right of the pool with or without seaweed on their heads.
On the back side of the backyard, there are different types of ladders placed on the fence so the zombies can enter. However, it is unknown how zombies that have heavy loads, counting the Gargantuar, can climb the ladders, especially the wooden ladders that would get destroyed due to heavy weight.
New plants
Because of the watery aspect of this area, some new plants and zombies are encountered. On the defensive side, the Lily Pad was added so non-aquatic plants can be planted in the water, and Tangle Kelp to help defeat aquatic zombies. Also, Squash, Threepeater, Jalapeno, Spikeweed, Torchwood, and Tall-nut are unlocked.
New zombies
Audio and music
Music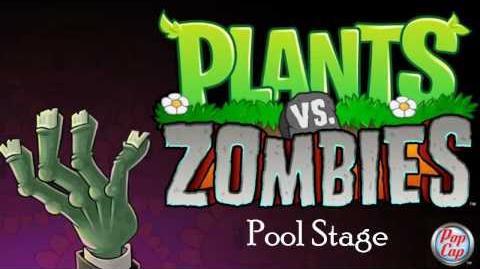 The Pool soundtrack.
Audio
A
Zombie
splashing into the pool
List of levels
Mini-games
Puzzle Mode
Survival Mode
Co-op Mode
Plants vs. Zombies: Journey to the West exclusive (Archived content) (China only)
In addition to the pre-existing ten stages, there are three bonus stages exclusive to Plants vs. Zombies: Journey to the West. They require gems to unlock.
Strategies
To beat any of the pool levels, the player is recommended to use Lily Pad (unless they are going for the Pool's Closed achievement). The pool offers a lot of new, useful plants as well. Use Torchwood to help make your peas deal more damage. Use Tall-nut to stop zombies dead in their tracks. Use Tangle Kelp primarily for the Snorkel Zombie and Dolphin Rider Zombie. You can also put a Squash or a Wall-nut on a Lily Pad, as another cheap alternative. Use Jalapeno or Spikeweed to kill Zomboni. Dolphin Rider Zombies are very tedious, but they can be killed with a Tangle Kelp or blocked by a Tall-nut easily. For more pool strategies, see here.
Related achievements
Trivia