This subject currently has no proper strategy associated with it. If you have figured out a good strategy, please
add it
or the zombies will eat your brains!

For the plant in Plants vs. Zombies 2 that the line is based on, see Shadow-shroom.
The Poison Shadow line (毒影系; pinyin: dú yǐng xì) is a Class S Tenacious plant line in Plants vs. Zombies: All Stars which was introduced in the 1.0.104 update, alongside Neon Mixtape Tour.
The line consists of Poison Tongue Mushroom (毒舌菇; pinyin: dú shé gū), Sepsis Mushroom (血毒菇; pinyin: xuè dú gū), and Shadow-shroom (毒影菇; pinyin: dú yǐng gū). They all specialize in spreading negative effects and attack by spitting poison.
Origins
All members of the Poison Shadow line are based on the Shadow-shroom from Plants vs. Zombies 2, albeit in different colors and appearances.
The middle evolution shares the exact same appearance as Shadow-shroom, and the final evolution shares its name and costumed appearance.
Poison Tongue Mushroom's name ,"毒舌菇", is a pun on "毒舌" (lit. "poison tongue"), which is an a term used to describe a spiteful or sarcastic remark, or someone who is harsh and belittling in their statements or tone. Poison Tongue Mushroom's name takes on a literal interpretation of a "poison tongue", as Poison Tongue Mushroom literally spits poison at zombies, and its attack animation involves it sticking its tongue out.
Almanac entry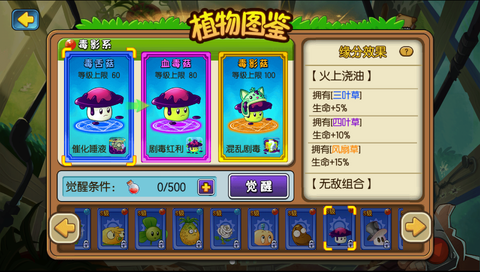 Ways to obtain
Poison Shadow line is given as a reward for collecting 90 stars in Neon Mixtape Tour, while puzzle pieces for this line can be obtained by replaying Neon Mixtape Tour - Day 8 or Neon Mixtape Tour - Day 18. Additionlal puzzle pieces can be obtained through Soulmates Puzzle system.
Abilities
Abilities are unlocked by tiering up, while their effect is increased through star leveling.
Note: 10(+5)% means that at LV1 this ability has a 10% on LV1, 15% on LV2 and so on.
Tier
Effect
Description
1

Catalytic Saliva
[Active]
Deals damage to all enemies on screen.
All damaged enemies also gain an additional 30(+10)% boost to their debuffs for 3 turns.
2

Acid Bonus
[Passive]
At the start of each turn restores health, if there's an enemy with negative effect applied to.
Amount restored increases for each enemy with negative effect apllied to.
 3

Chaos Toxic
[Passive]
Normal attacks also apply a random negative effect to hitted enemies for 2 turns.
Star leveling
After unlocking the Poison Shadow line, additional puzzle pieces can be used to upgrade it, which increases its stats and ability LVs.
Stars
Puzzle Pieces& required
Upgrade
Coins
Stars
Puzzle Pieces& required
Upgrade
Coins
1
0
+298
0k
1
40
+159
100k
2
2
+99
1k
2
40
+881
121k
3
4
Crit+104
4k
3
50
Crit+341
144k
4
8
+117
9k
4
50
+919
169k
5
15
+482

AbilityLv2

16k
5
60
+175

AbilityLv4

196k
1
15
+420
25k
1
60
+1004
225k
2
20
+124
36k
2
70
+191
256k
3
20
Crit+223
49k
3
70
Crit+460
289k
4
30
+688
64k
4
80
+189
324k
5
30
+135

AbilityLv3

81k
5
80
+239

AbilityLv5

361k
Soulmates
Poison Shadow line's stats will be increased if these specific plants are unlocked.
Gallery
General
Poison Tongue Mushroom
Sepsis Mushroom
Shadow-shroom
Trivia
This is the only line in the game to have wrath generation as their soulmates' boost.
Due to a glitch, Shadow-shroom lacks its hat in-game, appearing more like Sepsis Mushroom.

Interestingly, the drop of poison that is supposed to be on the hat still remains, and still reacts and animates as though the hat is still there.
Community content is available under
CC-BY-SA
unless otherwise noted.