Plants vs. Zombies Free Trial is a free PC version of Plants vs. Zombies. It is meant to be an advertisement for the full version of the game. The player can only play up to Level 3-4 in Adventure Mode in this version. After they finish Level 3-4, an advertisement called Upsell appears and suggests them to purchase the full version. It will automatically link the player to the way to get it.
Levels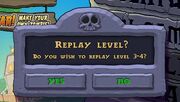 The player can only buy seed slots (the maximum limit is eight), Garden Rake, Pool Cleaner and Gatling Pea in this version.
There is also a cover box with PopCap Games logo, Plants vs. Zombies logo, Angry Peashooter and a Zombie, which is used for buying the Full Version.
Trivia
This version has all of the Game of the Year Edition's achievements, but only eight of them can be achieved.
Unlike the web version, the levels will not be replayed from the start. Instead, it will ask the player "Do you wish to replay level 3-4?". The player can also earn coins in this mode.
Community content is available under
CC-BY-SA
unless otherwise noted.