This article is under construction and requires more content. You can help our wiki by
expanding it
.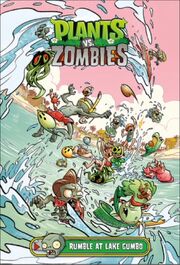 Plants vs. Zombies: Rumble at Lake Gumbo is the fourth graphic novel about the Plants vs. Zombies series that was published on June 13th, 2018. It is available to buy for $9.99 at Darkhorse.com.[1] It is a Big Wave Beach-themed novel about the plants and zombies fighting over a lake called Lake Gumbo.
Book information
Writer: Paul Tobin
Artists: Ron Chan, Kevin Burkhalter, Christianne Goudreau
Colorist: Matt J. Rainwater
Cover Artist: Ron Chan
Genre: Action/Adventure, Humor
Number of Pages: 88 pages
Shop description
"The battle for clean water begins! As soon as Dr. Zomboss discovers Lake Gumbo near Neighborville, Gargantuars start posing on Muscle Beach, volleyballs bounce off bungee zombies, and Zomboss uses a giant underwater drill to muddy and pollute the lake! Neighborhood defenders Nate, Patrice, and Crazy Dave spot trouble and grab all the Tangle Kelp and Party Crabs they can to quell another zombie attack!"
References

This article is a stub. Help us
expand it
, or the zombies will eat your brains!