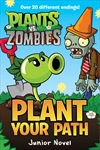 Plants vs. Zombies: Plant Your Path
is a book about
Plants vs. Zombies
. Unlike most books, it is a story where the reader must choose pick the choice of what they want to do.
The book can be bought at book stores and on book systems on mobile devices. The main characters are the reader and Crazy Dave. New characters released in this book are Stanley, Emma, and Matt.
Plot
Note: As the reader can choose what events happen next, the plot is listed out of order. The following list is the order the events are literally written in the book, not the order they chronologically happen in.
1: It begins when you are hanging out by your pool. Your parents are out taking ballroom dancing lessons. You wanted a quiet day to yourself. Except ding dong! The door bell rings and it's Matt and Emma. They're both in your grade school. They're not really friends. Soon Crazy Dave comes in and talks weirdly. He says something about zombies. You say "He always talks about zombies so its no big deal." Then you see a gray person. It has to be a zombie! Then you notice that green balls are flying across the lawn, they're coming from a Peashooter! Soon the zombie is destroyed. You are then given the choice to plant a Cherry Bomb or a row of Peashooters. 
2: You plant a Twin Sunflower to make the plants sprout quicker on the roof. However, this is ineffective as since the Roof is higher up the plants will still sprout quicker. A Gargantuar comes along and crushes your defenses, and then the zombies eat your brains.
3: Continuing the search for Matt, you decide to look in the gym, thinking that he would be working out. You turn on the light in a room but it is filled with zombies! You run into the pool but it is filled with Ducky Tube and Snorkel Zombies. The pot on Crazy Dave's head protects him but the zombies eat your (and Emma's) brains.
4: Emma makes a right turn, and Crazy Dave sings a song about squirbos. Emma keeps driving and comes across two buildings. One is an abandoned convenience store, and the other is a traveling carnival. There is a sign on the carnival reading, "HAVE FUN AT THE PLANT-O-RAMA!" Then, you are given a choice to take shelter in the convenience store or the carnival.
Trivia
The reader thinks that the Zombot will start to shoot lasers. This may be a reference to Air Raid, a Nintendo DS mini-game, where the Zombot does shoot lasers.
Bloom and Doom Seed Co. makes a cameo appearance in the book which is where the reader gets more plants.
Community content is available under
CC-BY-SA
unless otherwise noted.