For other uses, see plants.
Plants are living organisms that belong to the Plantae kingdom. They obtain most of their energy from sunlight in a process called photosynthesis. However, not all plants absorb energy via photosynthesis. They are the protagonists of Plants vs. Zombies: All Stars and the player's main defense against the undead assailants.
Plants in Plants vs. Zombies: All Stars had health, attack power, and defense (represents the total health that a plant can absorb in each attack). They could be upgraded by using items such as gems, coins, sun, equipment or spirits. Each of them also had their own attacks and abilities. Plants could also be evolved to the next tier with potions and coins. Once a plant was upgraded, it could not be downgraded. The upgraded plant would have different effects to the original plant. Note that some of these plants were features in the games menus and title screens, but weren't featured in gameplay.
Plants available
Gentle Plants
| Plant Line | Tier 1 | Tier 2 | Tier 3 | Grade | Specializes in |
| --- | --- | --- | --- | --- | --- |
| Sunflower line | Sunflower | Twin Sunflower | Triplet Sunflower | Class A | Healing all allies |
| Hazelnut line | Pistachio | Hazelnut | Hazelnut Ball | Class A | Removing negative effects |
| Radish line | Small Radish | Radish | Ginseng | Class A | Healing low-health allies |
Brave Plants
Plant Line
Tier 1
Tier 2
Tier 3
Grade
Specializes in
Pea line

Peashooter

Repeater

Gatling Pea
Class A
Dealing with single targets
Ice Pea line

Droplet Shooter

Snow Pea

Frostbolt Shooter
Class A
Freezing single targets
Spray
Mushroom
line

Puff-shroom

Scaredy-shroom

Fume-shroom
Class A
Poisoning enemies in its lane
Corn line

Kernel-pult

Popcorn-pult

Cob Cannon
Class S
Buttering random enemies
Boomerang
line

Frisbee Shooter

Bloomerang

Meteor Hammer Master
Class A
Stunning front enemies in all lanes
Tail line

Cattail

Dogtail

Foxtail
Class S
Generaing wrath for allies
Coconut line

Coconut Sniper

Coconut Cannon

Coconut Rocket Launcher
Class S
Dealing with boss supporters in its lane
Cactus line

Ball Cactus

Cactus

Tree Cactus
Class S
Dealing with boss supporters on the field
Pepper line

Small Pepper

Jalapeno

Devil Chili
Class A
Burning enemies in its lane
Electric
Grass line

Lightning Reed

Magnifying Grass

Thunder God Grass
Class A
Stunning heap groups of enemies
Clover line

Blover

Four-Leaf Blover

Fan Blover
Class A
Dealing with all enemies on screen
Watermelon
line

Melon Slice-pult

Melon-pult

Winter Melon
Class A
Freezing random enemies
Dragon line

Lizard Grass

Snapdragon

Twin-Headed
Snapdragon
Class S
Burning column-wide groups of enemies
Doom line

Irascible Mushroom

Doom-shroom

Doomsday Bomb Mushroom
Class S
Exploding heap groups of enemies
Tree line

Small Bush

Firmiana

Cypress
Class A
Decreasing speed of enemies
Chrysanthemum
line

Small Daisy

Marigold

Golden
Chrysanthemum
Class A
Collecting coins
Charm line

Beauty-shroom

Hypno-shroom

Talisman-shroom
Class A
Silenting enemies
Coffee line

Coffee Bean

Latte Bean

Mocha Bean
Class A
Increasing attack of allies
Peach line

Small Peach

E.M.Peach

E.C.Peach
Class S
Stunning large groups of enemies
Citron line

Small Kumquat

Citron

Super Citron
Class S
Dealing with mechs
Energy Bean line

Energy Bean

Laser Bean

Super Bean
Class S
Dealign with enemies in its lane
Music line

Trump Tulip

Phat Beet

MC Glory
Class S
Absorbing wrath of enemies
Flame line

Thyme Warp

Red Stinger

Firebloom Queen
Class S
Exploding single targets
Magic line

Magic-shroom

Witch Hazel

Pumpkin Witch
Class S
Locking enemies in stasis balls
Shadow line

Moonflower

Nightshade

Grimrose
Class S
Going into shadow form
Rafflesia
line

Venomous Flower

Rafflesia

Royal Rafflesia
Class S
Poisoning and exploding random enemies
Apple line

Apple Tosser

Apple Howitzer

Apple Mortar
Class S
Dealing with weak targets
Poison Shadow
line

Poison Tongue
Mushroom

Sepsis Mushroom

Shadow-shroom
Class S
Worsening negative effects on enemies
Passionflower
line

Passionflower Apprentice

Passionflower Researcher

Passionflower
Class S
Accumulating power
Tenacious Plants
Plant Line
Tier 1
Tier 2
Tier 3
Grade
Specializes in
Nut line

Wall-nut

Tall-nut

Holographic Tall-nut
Class A
Protecting allies
Flytrap line

Slap Grass

Venus Flytrap

Chainsaw Flytrap
Class A
Self-sustaining
Spike line

Spikeweed

Spikerock

Diamond Spikeweed
Class A
Lowering defense of single targets
Bomb line

Cherry Bomb

Saturn Peach Bomb

Walnut Bomb
Class A
Exploding groups of enemies
Stump line

Elderwood

Torchwood

Wispywood
Class S
Protecting itself
Choy line

Choy Ben

Bonk Choy

Tai Choy
Class A
Stunning column-wide groups of enemies
Magnet line

Magnet-shroom

Electromagnetic
Mushroom

Magneto Mushroom
Class A
Lowering defense of enemies
Street Lamp line

Grass Lantern

Plantern

Lighthouse Flower
Class A
Lowering attack of enemies
Pineapple line

Spinnapple

Endurian

Jackfruit
Class S
Taunting enemies
Rose line

Sword Disciple

Zorrose

Sword Master
Class S
Bleeding column-wide groups of enemies
Auxiliary plants
These plants are in the game, but you can't use them.
| Plant | Function |
| --- | --- |
| Sun-shroom | Appears in special events where it can be defeated so that the player can get sun. |
| Marigold | Appears in special events where it can be defeated so that the player can get money. |
| Lily Pad | Plants are on top of them in water levels |
| Flower Pot | Accessorizes plants |
Cameo Appearances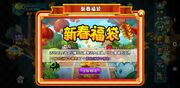 V ·

T

· E
Plants lines (Plants vs. Zombies: All Stars)