Dead Cells Final DLC - The Loop
Play Sound

This subject currently has no proper strategy associated with it. If you have figured out a good strategy, please
add it
or the zombies will eat your brains!

For more information about the character that this line is based on, see Plantern.
The Plantern line (路灯系; pinyin: lùdēng xì) is a Class S

Tenacious plant line in Plants vs. Zombies: All Stars which was added in v1.0.91 along with Dark Ages.
The line consists of Grass Lantern (灯笼草; pinyin: dēnglóng cǎo), Plantern (路灯花; pinyin: lùdēng huā), and Light Flower (灯花; pinyin: dēng huā). They all specialize in buffing the team and attack by headbutting.
Origins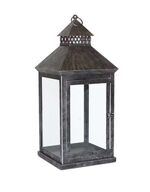 All members of the Plantern line are based in some way off of lanterns.
Grass Lantern's name is a pun on the Physalis alkekengi's Chinese name, which can translate to mean "Grass Lantern". Grass Lantern is a literal interpretation of this name, being a lantern that is made of grass.
The second tier of the evolution line is based on Plantern, more specifically, Plantern's appearance in the Chinese version Plants vs. Zombies 2.
Light Flower's name is a pun on "light tower" and "flower".
Almanac entry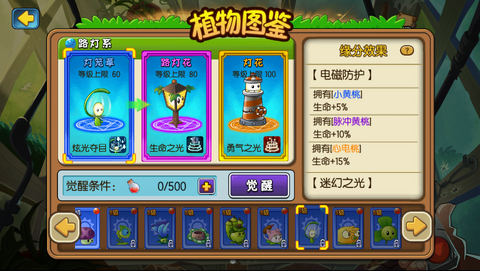 Ways to obtain
Plantern line puzzle pieces can be obtained in April as monthly rewards. Additional puzzle pieces can be obtained through Soulmates Puzzle system.
Abilities
Abilities are unlocked by tiering up, while their effect is increased through star leveling.
Note: 10(+5)% means that at LV1 this ability has a 10% on LV1, 15% on LV2 and so on.
Tier
Effect
Description
1

Blind Alley
[Active]
Decreases attack and defense of all enemies by 270(+270) for 3 turns.
2

Life Light
[Passive]
At the start of every wave gives all plants a healing aura and increases their defense by 140(+140) for 5 turns.
Healing aura restores 60(+60) health each turn.
 3

Flare of Courage
[Passive]
At the start of every wave increases damage by 60(+60) and crit by 95(+95) of all plants for 5 turns.
Star leveling
After unlocking the Plantern line, additional puzzle pieces can be used to upgrade it, which increases its stats and ability LVs.
Stars
Puzzle Pieces& required
Upgrade
Coins
Stars
Puzzle Pieces& required
Upgrade
Coins
1
0
+439

+439

0k
1
40
+873
100k
2
2
+256
1k
2
40
+167
121k
3
4
Dodge+292
4k
3
50
Dodge+960
144k
4
8
+294
9k
4
50
+1010
169k
5
15
+501

AbilityLv2

16k
5
60
+168

AbilityLv4

196k
1
15
+369
25k
1
60
+208
225k
2
20
+609
36k
2
70
+1034
256k
3
20
Rigid+223
49k
3
70
Rigid+460
289k
4
30
+740
64k
4
80
+272
324k
5
30
+144

AbilityLv3

81k
5
80
+1089

AbilityLv5

361k
Soulmates
Plantern line stats will be increased if these specific plants are unlocked.
Gallery
General
Grass Lantern
Plantern
Old
Light Flower
Trivia
Grass Lantern's original Chinese name is the exact same as the one for Lantern Cherry, another Chinese exclusive plant.
Plantern's old design has probably inspired its appearance in Plants vs. Zombies Heroes.
Despite the name of the plant, Light Flower does not resemble a flower nor a plant in any shape or form. It is closer to an actual lighthouse.
Light Flower's costume resembles that of the classic England Police Cap.