For the plants in Plants vs. Zombies 2 that the line is based on, see Spinnapple, Endurian, and Jackfruit.
The Pineapple line (菠萝系; pinyin: bōluó xì) is a Class S

Tenacious plant line in Plants vs. Zombies: All Stars, which was introduced in the 1.0.102 update.
The line consists of Spinnapple (旋转菠萝; pinyin: xuánzhuǎn bōluó), Endurian (榴莲; pinyin: liúlián), and Jackfruit (菠萝蜜; pinyin: bōluómì). They all specialize in protecting the team by taunting.
Spinnapple and Jackfruit attack by headbutting enemies, while Endurian attacks by lashing out spikes.
Origins
The members of the Pineapple line are based on Spinnapple, Endurian, and Jackfruit respectively.
Each tier is based on these plants due to each of them being some sort of spiky fruit.
The name of the line comes from the Chinese names of Spinnapple and Jackfruit, "旋转菠萝" and "菠萝蜜" respectively, containing the word "菠萝" ("pineapple") in them.
Almanac entry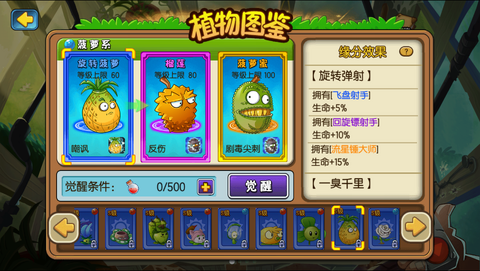 Ways to obtain
Pineapple line can only be unlocked during time limited events. Additional puzzle pieces can be obtained through Soulmates Puzzle system.
Abilities
Abilities are unlocked by tiering up, while their effect is increased through star leveling.
Note: 10(+5)% means that at LV1 this ability has a 10% on LV1, 15% on LV2 and so on.
Tier
Effect
Description
1

Taunting
[Active]
Enters taunting state for 4 turns.
Gains a 20(+5)% boost to its defense and dodge while in this state.
Assumes some damage taken by its allies while in this state.
2

Eye for an Eye
[Passive]
When hurt, deal damage to the attacker equal to 50% of this plants' attack.
3

Toxicity
[Passive]
Taunting state also gives a 25% chance to stun an attacker.
Star leveling
After unlocking the Pineapple line, additional puzzle pieces can be used to upgrade it, which increases its stats and ability LVs.
Stars
Puzzle Pieces& required
Upgrade
Coins
Stars
Puzzle Pieces& required
Upgrade
Coins
1
0
+439

+439

0k
1
40
+873
100k
2
2
+256
1k
2
40
+167
121k
3
4
Dodge+292
4k
3
50
Dodge+960
144k
4
8
+294
9k
4
50
+1010
169k
5
15
+501

AbilityLv2

16k
5
60
+168

AbilityLv4

196k
1
15
+369
25k
1
60
+208
225k
2
20
+609
36k
2
70
+1034
256k
3
20
Rigid+223
49k
3
70
Rigid+460
289k
4
30
+740
64k
4
80
+272
324k
5
30
+144

AbilityLv3

81k
5
80
+1089

AbilityLv5

361k
Soulmates
Pineapple line stats will be increased if these specific plants are unlocked.
Gallery
General
Spinnapple
Endurian
Jackfruit
Trivia
Endurian plays his damaging animation, when being damaged by enemy active ability. This greatly increases time spent in some levels.
Community content is available under
CC-BY-SA
unless otherwise noted.