Arcane: League of Legends - The Loop
Play Sound


Pickled Pepper is a conjectural name for this article.
If you know the official name or have a better name or
translation for it, please contact a wiki
administrator
to change it.
Pickled Pepper (泡椒炸弹; pinyin: pàojiāo zhàdàn) was a plant in Plants vs. Zombies: Social Edition. It was a premium plant that costed 125 sun. Its ability was similar to Jalapeno, but instead it destroyed zombies in a vertical column rather than a horizontal row.
Origins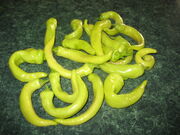 It is based on a pickled pepper, a pepper marinated by submerging it in a vinegar brine.
Although many types of peppers are used for pickling, the pepper Pickled Pepper most resembles is the banana pepper, one of the more common peppers used for pickling, due to its color and shape.
Almanac entry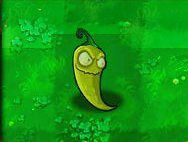 泡椒炸弹
泡椒炸弹可以摧毁一整条竖线上的僵尸。
伤害:巨大
范围: 整条竖线上的僵尸
用法: 消耗型道具(单次)立即爆炸
"嘎嘎嘎嘎嘎嘎嘎!!!"泡椒炸弹说:"我这身潮装比火爆辣椒那傻大个强多了吧!"
In English: Pickled Pepper

Pickled Pepper can destroy an entire vertical line of zombies.

Damage: massive
Range: all zombies in column
Usage: consumable item, (single) instant use

"GAAARGH!!!" says Pickled Pepper, "My chic outfit is SO MUCH BETTER than that silly Jalapeno's!"

Cost:125
Recharge: very slow
Gallery
Trivia
It was the only premium plant to be an instant use plant.
See also