This subject currently has no proper strategy associated with it. If you have figured out a good strategy, please
add it
or the zombies will eat your brains!

For more information about the character that this line is based on, see E.M.Peach.
The Peach line (黄桃系; pinyin: dú yǐng xì) is a Class S

Brave plant line in Plants vs. Zombies: All Stars. It was added in the v1.0.88 update, being released alongside Far Future, Citron line, and Energy Bean line.
The line consists of Small Peach (小黄桃; pinyin: xiǎo huáng táo), E.M.Peach (脉冲黄桃; pinyin: màichōng huáng táo), and E.C.Peach (心电桃; pinyin: xīn diàn táo). They all stun enemies and attack by firing electro-magnetic projectiles from their antennae.
Origins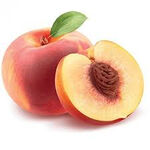 All members of the Peach line are based on the plant
Prunus persica
, known as the peach.
The second tier of the Peach line, E.M.Peach, is based on the plant with the same name and appearance from Plants vs. Zombies 2.
In Chinese, E.C.Peach's name is a pun on 心电图(xīn diàn tú), which means E.C.G, and 桃(táo), which means 'peach', as it sounds similar to 图(tú).
Almanac entry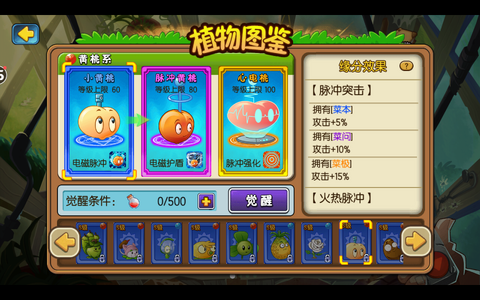 Abilities
Abilities are unlocked by tiering up, while their effect is increased through star leveling.
Note: 10(+5)% means that at LV1 this ability has a 10% on LV1, 15% on LV2 and so on.
Tier
Effect
Description
1

Stun Gun
[Active]
Rushes to the closest enemy in its lane and deals damage to all enemies in 3x3 area, stunning them for 2 turns as well. Mechs are stunned for 3 turns instead.
Additional damage 380(+380).
2

Force Field
[Passive]
At the start of each wave grants protective shield to all plants for 3 turns.
Shield absorbs 140(+140) damage.
3

Heartbeat Jamming
[Passive]
Normal attacks have a chance to stun the target for 1 turn.
This also lowers defense of mechs attacked.
Additional damage 124(+124).
Star leveling
After unlocking the Peach line, additional puzzle pieces can be used to upgrade it, which increases its stats and ability LVs.
Stars
Puzzle Pieces& required
Upgrade
Coins
Stars
Puzzle Pieces& required
Upgrade
Coins
1
0
+298
0k
1
40
+159
100k
2
2
+99
1k
2
40
+881
121k
3
4
Crit+104
4k
3
50
Crit+341
144k
4
8
+117
9k
4
50
+919
169k
5
15
+482

AbilityLv2

16k
5
60
+175

AbilityLv4

196k
1
15
+420
25k
1
60
+1004
225k
2
20
+124
36k
2
70
+191
256k
3
20
Crit+223
49k
3
70
Crit+460
289k
4
30
+688
64k
4
80
+189
324k
5
30
+135

AbilityLv3

81k
5
80
+239

AbilityLv5

361k
Soulmates
Peach line stats will be increased if these specific plants are unlocked.
Strategies
Stun Gun is among the strongest active abilities in the game, making Peach line insanely powerful even at lower star levels. This plant can be used in the same situations as Tai Choy and Meteor Hammer Master, while also being stronger then them in Far Future due to higher stun duration.
Gallery
General
Small Peach
E.M.Peach
E.C.Peach
Trivia
Mechs from Far Future have their animations from Plants vs. Zombies 2, when stunned by Peach's line active ability. This doesn't apply to stun from other plants.
Community content is available under
CC-BY-SA
unless otherwise noted.