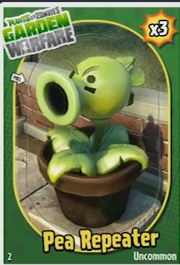 For other uses, see Repeater (disambiguation).
Pea Repeater is an Uncommon Spawnable Plant in Plants vs. Zombies: Garden Warfare. It is a common Spawnable Plant, although not as common as Pea Cannon. It shoots 2 peas at zombies. In addition to this, the Pea Repeater also differentiates from the Pea Cannon by its eyebrows and the extra leaves on its head, the same way a Repeater differentiates from a Peashooter. Each pea deals 15 damage. Its attack is Large Pea.
Stickerbook description

Fires multiple peas, dealing more damage than the Pea Cannon.
Health
A Pea Repeater has less than or equal to 80 health.
Strategies
Pea Repeater is very common, though not as much as Pea Cannon. In Garden Ops it should not be used until wave five comes, since Pea Cannon is more common and can usually stay alive well in the first few waves.
Trivia
When a player gets vanquished by this, it will say Repeater instead of Pea Repeater. Similar results happen to Fire Peashooter and Ice Peashooter.
It is one of three peashooting Spawnable Plants did not return in Garden Warfare 2, the others being Fire Peashooter and Ice Peashooter.