This page is about the Piñata that appear after Piñata Parties are completed. For Piñatas that are used to upgrade plants, see Piñata.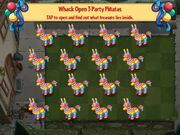 A Party Piñata is a type of item available in Plants vs. Zombies 2, found in Piñata Parties. They appear after the Party level is completed, and three of them can be "smashed" (tapped on) to reveal costumes, gems, sprouts, seed packets, or coins.
Update history
1.5: Piñatas are introduced.
2.2: Señor Piñata is now whacked every five consecutive parties instead of three.
2.5: Señor Piñata can be whacked even if a party is skipped.
2.9: Señor Piñata cannot be whacked if a party is skipped.
Señor Piñata
This item appears after the player completes five consecutive Piñata Parties. It requires three taps to open, and it sometimes contain a costume (unless all costumes have already been unlocked, in which case it will contain 4000 coins).
Gallery
Plants vs. Zombies Wiki
has a
gallery
for Party Piñata.
Trivia
The costume or big money prize can only be found inside the last piñata. The game places it inside a random piñata after the player whacks open two piñatas.
Disco-tron 3000 uses a remix of the Señor Piñata music.
When you replay (using daily replays) a party with the Señor Piñata, you will get a costume after you whack open the three small piñatas, even though the Señor Piñata does not appear. This is likely a glitch.
The piñatas and Señor Piñata change during most seasonal events, with the exception of Food Fight, Luck O' The Zombie, and any zombie-specific event.
Community content is available under
CC-BY-SA
unless otherwise noted.