Raise a Floppa - The Loop
Play Sound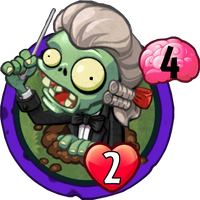 Orchestra Conductor is a premium uncommon zombie card in Plants vs. Zombies Heroes and a member of the

Crazy class. He costs 4

to play and has 2

. He does not have any traits, and his ability gives all zombies on the field, including him, +2

when he is played. His closest plant counterpart is Berry Angry.
Origins
He is based on an orchestra conductor, a person who leads an orchestra.
Statistics
Class: Crazy
Tribes: Dancing History Zombie
Traits: None
Ability: When played: All Zombies get +2.
Set - Rarity: Premium - Uncommon
Card description
He isn't in it for the music. He just likes waving sticks.
Update history
Update 1.14.13
Set change: Basic - Common → Premium - Uncommon
Update 1.16.10
Strategies
With
Orchestra Conductor is expensive and has terrible stats for his cost (even with the ability boost), and his only saving grace is his ability. Fortunately, giving every zombie on the field +2

is a powerful ability, making Orchestra Conductor a decent card to strengthen groups of zombies, regardless of what type of deck you are using; as long as you can have many out on the field, it should be fine.
If you want to reactivate his ability, either Bounce him back via Secret Agent or Firefighter, or hide him in a gravestone by playing In-Crypted (which Impfinity has), but avoid using Mixed-Up Gravedigger as the previous strength boost will be lost for all zombies, defeating the purpose of "replaying" Orchestra Conductor. Also, it is not advised to play Orchestra Conductor on turn 4 right away if you want to do that, since Orchestra Conductor will have to survive a turn of combat, which he can't most of the time. It is not recommended to use this zombie along with Disco-Naut either unless they have 0

, as Orchestra Conductor will boost them to over 2

, essentially stripping them of the

Bullseye trait.
In terms of synergy, Orchestra Conductor is a dancing card, meaning he can synergize with Flamenco Zombie, Aerobics Instructor, and Headhunter. As for his history synergy, it is much less significant, as it only makes him obtainable via Escape through Time and Zombot Dinotronic Mechasaur.
Against
Due to his low stats, Orchestra Conductor should not pose as a threat. Instead, you might want to deal with the other zombies, as they have recently gained +2

. If a majority of your opppnent's zombies end up with 4 strength, the best counter against them would be Doom-Shroom. Or, you could wipe them out with your own plants, which won't get any harder since Orchestra Conductor doesn't boost health.
Also, try not to Bounce him unless you are about to win, as your opponent can replay him to boost all the zombies again, making them into even bigger threats.
Gallery
Old
In other languages
| Language | Name | Description |
| --- | --- | --- |
| English | Orchestra Conductor | |
| Simplified Chinese | 弦乐队指挥 | |
| Traditional Chinese | 樂隊指揮 | |
| French | Chef d'orchestre | |
| German | Orchesterdirigent | |
| Italian | Direttore d'orchestra | |
| Japanese | オーケストラ指揮者 | |
| Korean | 오케스트라 지휘자 | |
| Brazilian Portuguese | Maestro da Orquestra | |
| Russian | Дирижер оркестра | |
| Spanish | Director de orquesta | |