There are currently no images in this article. If you have any images for this page,
upload
them and add them here, or else the zombies will eat your brains!
Oops! Too many Players is a Weekly Event game mode in Plants vs. Zombies: Battle for Neighborville. It is a variant of Team Vanquish that is played in the Funderdome instead of on normal maps.
Mechanics
This game mode functions identically to Team Vanquish, except that it will always take place in Funderdome.
Description
Oops! We let too many players into the Funderdome. Elbow to Petal, Foot to Leaf--there's no room to hide, so get vanquishing!
Weekly challenges
The weekly challenges for this event are as follows:
Win a Match
Deal Damage (10,000x)
Vanquish Enemies (35x)
Trivia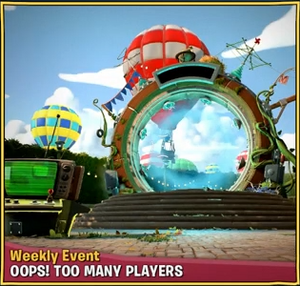 The icon for this mode was originally an image of a pre-release Giddy Park portal. However, this was changed a day later with a more relevant icon.
This gamemode's icon is the first icon to feature a Wizard.
Community content is available under
CC-BY-SA
unless otherwise noted.