Onmyoji Zombie (阴阳师僵尸; pinyin: yīnyáng shī jiāngshī) is the fourth and final unique zombie encountered in Heian Age in the Chinese version of Plants vs. Zombies 2. He can summon Divine Winds.
After walking two steps on the field, Onmyoji Zombie then will raise his fan and swing it around. It will cause a Small Wind at first, which push most zombies forward, and then a Big Wind later on. Similar to Divine Wind, they function the same way as it is, but unlike the aforementioned mechanic, Small Winds only happen once instead of twice in a row.
He has an Elite variant that can summon Small Winds that push zombies further than usual.
Origins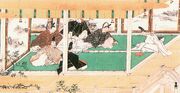 Onmyoji Zombie is based on an Onmyōji, one of the positions in the Ministry of the Center's Bureau of Onmyō under the ritsuryō system in ancient Japan.
Description
Onmyoji Zombie, as his name suggests, wears an onmyōji outfit (his top hat was grey-ish dark brown, while his outfit are mainly cyan and white). He also has a fan, which can be used to control the Divine Wind mechanic.
Almanac entry
Normal
阴阳师僵尸

Onmyoji Zombie

阴阳师僵尸热衷于制作不一样的扇子,这次他给带来神社的扇子命名为:幸运星。

特点:挥舞手中的扇子,便会刮起幸运的风!!
弱点:身上的狩衣似乎起不到什么防护作用?

他在这里扇一下扇子,神社不久便刮起了风。
阴阳师僵尸 (Onmyoji Zombie)
TOUGHNESS: Protected
SPEED: Hungry
阴阳师僵尸热衷于制作不一样的扇子,这次他给带来神社的扇子命名为:幸运星。
特点:挥舞手中的扇子,便会刮起幸运的风!!
弱点:身上的狩衣似乎起不到什么防护作用?

他在这里扇一下扇子,神社不久便刮起了风。
In English:

Onmyoji Zombies is emphasised at making different-looking fans, this time he's calling this fan he made for the shrine the "Lucky Star".

Special: Waving his fan, and the wind of luckiness shall blow!
Weakness: His kariginu doesn't seem to be that protective...?

He waved his fan, and the wind at the shrine blew.
Elite
Elite Onmyoji Zombie
TOUGHNESS: Protected
SPEED: Hungry
In English:

Unlike the other zombie fans of zombies' fans, Elite Onmyoji Zombie believes that as a zombie, one should have a greater ambition.


So, he became the only librarian among all the zombies.
Encounters
Heian Age: Days 17, 18, 19, 20, 21, 23 and 24
Strategies
You have to prepare Windbreak Dendrobium to counter his main ability. If there is a Divine Wind mechanic that goes after him automatically without using his ability, then it's also a problem for your defenses as well. Try to block it with planting two plants that distracting them such as Puff-shroom or use Windbreak Dendrobium for their main counter since he can stand longer with two leaves. Planting more Windbreak Dendrobiums in diagonal lanes will be a perfect strategy for upcoming winds that goes through other lanes.
Gallery
Trivia
Onmyoji Zombie is similar to Chief Ice Wind Zombie, as both of them controls the main mechanic of their worlds, respectively frozen blizzards and divine wind. Both of them also activate these mechanics in a single lane.

Coincidentally enough, both zombies are related to winds.
Also coincidentally, they're both Chinese-exclusive zombies.
See also