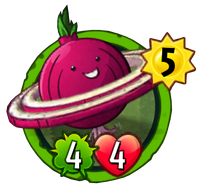 Onion Rings is a galactic legendary plant card in Plants vs. Zombies Heroes and a member of the

Mega-Grow class. It costs 5

to play and has 4

/4

. It does not have any traits, and its ability changes the stats of all plant fighters in the plant hero's hand to 4

/4

when it is played.
Origins
It is based on the onion (Allium cepa), specifically the red onion; and a planet with rings, for example, Saturn.
Its name is a literal pun on "onion rings," a snack that consists of cross-sectional "rings" of onion covered in batter which are then deep-fried. However, Onion Rings has raw sliced onion rings orbiting around it instead.
Its description is a reference to how onions in real life cause eye irritation and uncontrollable tears when cut normally due to a chemical irritant known as syn-propanethial-S-oxide.
Statistics
Class: Mega-Grow
Tribe: Root Plant
Traits: None
Ability: When played: Each plant in your hand becomes 4/4.
Set - Rarity: Galactic - Legendary
Card description
So powerful it makes you cry.
Update history
Update 1.16.10
Strategies
With
Onion Rings itself is a loss of field control with a poor statline of 4

/4

for 5

, but its ability can potentially cause a large tempo swing if it boosts enough plants. Thus, getting as many cards as possible to gain maximum value can be done with reactive play by running a control deck or drawing additional cards with ones like Flourish.
As Onion Rings turns all your plants' stats into 4

/4

, this naturally comes with the deckbuilding restriction of cards with high stats such as The Great Zucchini and Kernel Corn, reducing the overall effectiveness of the boost. To make the best use of the ability, cards that cost little (regardless of stats) should be prioritized in an Onion Rings deck.
The Mega-Grow class has a few cards that work decently with its ability such as Bonk Choy, Sweet Pea, Grow-Shroom, and Clique Peas due to the naturally low stats of the class. However, each other class has their share of plants that also go well with the boost.
But in the end, a good Onion Rings deck needs to balance cards that are great with the Onion Rings boost while still doing acceptably without it, with tradeoffs between weakness and aggressive strategies that bring less value in the deck overall.
Against
Onion Rings relies on a deck being built around its ability to be effective, and the cards that gain value from that are often poor for establishing control early-game. Going on the offensive will force your opponent to choose between losing boost value and taking a lot of damage. Also, keep in mind that any cards affected by Onion Rings will keep their new stats even after being Bounced, so do not attempt to do that to reset their stats. Cards such as Regifting Zombie can potentially speed up their gameplan of gaining cards to boost, but it is often more important to fuel your aggression than to fear their later value.
Gallery