This subject currently has no proper strategy associated with it. If you have figured out a good strategy, please
add it
or the zombies will eat your brains!

Oil Olive (油橄榄; pinyin: yóu gǎnlǎn) is a plant obtained in Renaissance Age in the Chinese version of Plants vs. Zombies 2. He is a single-instant-use plant. When played, he creates an oil slick in a 3x1 area ahead and behind him, which can be ignited by fire plants to deal an immense amount of damage to zombies who step in it (Imp Dragons are not affected). Ballerina Zombies can slip on this oil and be momentarily stunned. If not touched by a fire plant the oil slick dissapears soon after.
Origins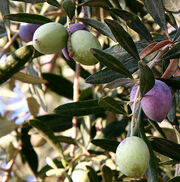 Oil Olive is based on the
olive
, the fruit of the
Olea europaea
tree, and
olive oil
, a cooking oil obtained from the Olive fruit. His ability to make Ballerinas Slip is a reference to how oil reduces friction between matter and the combustive properties of the oil slick is a reference to how flammable they can become when confronted by heat.
Almanac entry
In English:

Can slip up Ballet Zombies, oil can be lit on fire when attacks by fire plants touch it.

Usage: single-use
Plant feature: green plant


Oil Olive originates from far within the Mediterranean and has come to this mysterious land to study culinary techniques. But he only just recently got the handle of a spoon: Pour a little oil in the pan, lift it twice, set the the pan ablaze, looks pretty cool.
Gallery
Trivia
Oil Olive is the first and only plant in the franchise to be based on an olive.
Community content is available under
CC-BY-SA
unless otherwise noted.