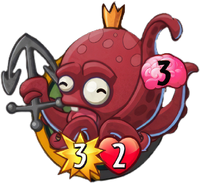 Octo-Pet is a token zombie card in Plants vs. Zombies Heroes and a member of the

Hearty and

Sneaky classes. It can be made by Octo-Pult. It costs 3

to play (only when it is Bounced or Conjured) and has 3

/2

. It has the Amphibious trait and does not have any abilities. Its plant counterpart is Template:PvZHLink.
Origins
It is based on an octopus, a cephalopod mollusk of the order Octopoda, specifically the one on Neptuna's head.
Its name is a portmanteau of "octopus," the animal it is based on, and "pet," referring to its tribe and it being owned by Neptuna.
Statistics
Classes: Hearty, Sneaky
Tribe: Pet Zombie
Trait: Amphibious
Abilities: None
Set: Token
Card description
It's slimy, beady-eyed, and it leaves ink splotches wherever it goes. Neptuna loves it all the same.
Strategies
With
Most of the time, Octo-pet will be gotten from Octo-pult, so a lot of the strategy from that page applies heavily to here. Any other way you get the card (Which is likely through rng of some sort) is likely not very helpful. It's a standard understatted amphibious unit, and there's not a lot to say about it. It doesn't possess any unique abilities and as a catch from transformation and conjure, isn't very helpful.
As most amphibious zombies go, since it finds itself understatted to cost, it's mainly/only for use of its amphibious capabilities and at that point is just a harder to come by Dolphin Rider. 
In summary, the best advice on how to use this card in tangent with Neptuna's signature ability is more readily available on Octo-pult's page, otherwise, it's simply utilized best as a traditional amphibious unit; being best for water play and nowhere else.
Against
Octo-Pet is weak compared to its cost in terms of stats, but knowing the circumstances this comes in, it can be quite a handful on turn 1 with the use of Octo-pult but again, Octo-pult's article covers its counters.
But to the card itself, it's again, a harder to come by Dolphin Rider. If you see it by means of transformation or conjure, it's likely harmless. Especially if it's on land since most traditional 1 drops can take it out easily. Though, through conjure, if it finds itself played in the water, it might be a little bit of a handful. And as such, the usual counters to amphibious minions come in.

Having probably the most counter-able amount of health, it's not the hardest card to take out. Any kind of direct damage by means of minion, trick or basic soft removal regardless will do the trick. Movement abilities also work universally with these kinds of cards, but direct removal is just more reliable, especially with this card's weak health. Another option is to simply bounce it. It's not the most effective, and may be harmful late-game, but in the early game, you're going to force your opponent to either play it, or keep it in their hands, clogging up space. Sadly, this can't prevent the damage done by some of the earlier turns, or in the turn Neptuna uses it.
Gallery
Old
Trivia
Its flavor text is very similar to Camel Crossing's.
It has the longest "When hurt" animation out of any fighter in the game.
On Octo-Pet's card, its eyes resemble those of most zombies in the game, but in game, its eyes resemble curved arches like real-life octopuses.
Before the Galactic Gardens set was released, there were textures for Template:PvZHLink in Octo-Pet's textures before it was even released.
Aside from class and rarity, this card is identical to Dolphin Rider in terms of stats.
For some reason, aside from the color scheme and the crown, Octo-Pet looks fairly different from the octopus on Neptuna's head.
See also