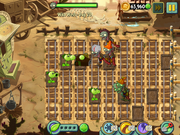 Not OK Corral is a Brain Buster exclusive to Wild West. All levels of this kind have one flag split into ten delayed waves of zombies. The player will get a new plant before each wave, randomly picking a card that results in a plant. The first two levels have a locked order of the plants, while the third level has a random order past the seventh plant. Players can know the types, numbers, and positions of zombies by viewing them before the wave starts. These levels require a bit of strategy and good memory to beat.
Origins
This Brain Buster's name is a reference to the Gunfight at the O.K. Corral.
Levels
The Roman numerals are the level numbers before the 1.7 update, while the parentheses show where the level is located after the 1.7 update, or if the level is removed in the update altogether. Each level has one flag, ten plants, and ten waves of zombies.
| Level | Plants | Order of plants | Zombies |
| --- | --- | --- | --- |
| Tutorial (Day 4) | | Two Peashooters, two Split Peas, three Repeaters, and three Threepeaters | |
| I (Day 12) | | Bloomerang and Lightning Reed alternately | |
| II (pre-1.7) | | Six Kernel-pults, then four Bonk Choys | |
| III (Day 20) | | Peashooter, Wall-nut, Potato Mine, Chili Bean, Repeater, Potato Mine, Wall-nut, then random | |
Gallery
Trivia
When the player plants a Coconut Cannon, then heads to see the zombies while quickly tapping on the Coconut Cannon to fire it, some of the zombies on the screen will be destroyed. This was fixed in the 1.7 update.
Not OK Corral ll is no longer playable.
Prior to the 1.9 update, Not OK Corral levels did not allow the player to use Power Ups.
If the player has acquired Wall-nut First Aid and repairs a Wall-nut with it, the wave will not start. This glitch is fixed now.
Every level has one flag, but no Flag Cowboy Zombies appear.
No Plant Food or lawn mowers are given in these levels, although players may buy Plant Food.

Though in Day 4 it is possible to get Plant Food, but only at the end, and it is possible to get Plant Food on Wild West - Day 12 during the Gem Jam Epic Quest.

In Day 20, the player may not always get the Coconut Cannon in the final wave. Instead, they can get another Repeater.
In Day 20, each column has a minecart and track.
In the Chinese version, the first level easy mode is tutorial, and hard mode being Day 1, the second level easy mode is Day 2, with hard mode being Day 3. This also applies to many other world-exclusive Brain Busters.
†: Strategy page
*: Unconfirmed name
Community content is available under
CC-BY-SA
unless otherwise noted.