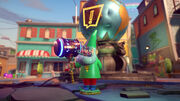 Mr. Lucky was a character in Plants vs. Zombies: Garden Warfare 2. He was a green Gnome in charge of the Luck O' the Zombie event, which lasted from March 14th to 23rd 2017, and offers missions very much like Sleepy Bat and the Snowman. The chest sitting next to him will include an exclusive hat, the Leprechaun Hat, featuring a unique rainbow shader similar to Gnomish Perspective, vital to the event's objective. During this event, players will be able to get, unlike during other holidays, coin rewards, not exclusive customizations.
Since The Luck O' the Zombie update has ended, players will no longer be able to find Mr. Lucky at the globe fountain until potentially the next St. Patrick's Day special event.
Trivia
This is the second gnome that does not attack the player, the first being Rux.
He is noticably smaller than most other gnomes.
See also