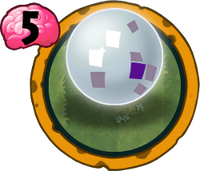 Not to be confused with the achievement with the same name from Plants vs. Zombies.
Monster Mash is a premium rare zombie trick card in Plants vs. Zombies Heroes and a member of the

Hearty class. It costs 5

to play, and its ability gives all zombies on the field +2

/+2

.
Origins
Its name is a reference to the 1962 novelty song Monster Mash. It also references how it is a monster trick.
Statistics
Class: Hearty
Tribes: Dancing Monster Trick
Ability: All Zombies get +2/+2.
Set - Rarity: Premium - Rare
Card description
Zombies never feel more alive than when they're dancing.
Update history
Update 1.2.11
Set - Rarity change: Basic - Uncommon → Premium - Rare
Strategies
With
This trick is extremely useful for every Hearty deck, since it is an effective way to boost zombies' stats en masse. Since it boosts all zombies on the field, make sure you have as many zombies on the field to maximize the benefit from this trick. However, this trick is expensive, so you should prepare cheaper boosting cards as well, or try to get more brains to play it earlier, primarily as Rustbolt. But even then, it is generally outclassed by Primeval Yeti as Evolving him results in a 6

/6

zombie on top of the boost Monster Mash would give.
Against
Just like all boosting tricks, you really can't counter this. However, you can predict it. If your opponent does nothing on the 5th turn with a field full of zombies, you can expect Monster Mash to be played. In this case, try to Bounce,

Freeze, or destroy zombies beforehand so that fewer zombies that can be boosted. If this cannot be done, you can play Template:PvZHLink should most zombies go over 4

if you are playing as a

Guardian hero, though you need to be careful that your plants do not go over 4

as well. You can also use a rush deck to pressure your opponent into not playing this due to its high cost.
Gallery
Old
Community content is available under
CC-BY-SA
unless otherwise noted.