Raise a Floppa - The Loop
Play Sound


Monk Flower is a conjectural name for this article.
If you know the official name or have a better name or
translation for it, please contact a wiki
administrator
to change it.
Monk Flower (唐僧向日葵; pinyin: tángsēng xiàngrìkuí) was a plant in Plants vs. Zombies: Journey to the West. It is one of the Heroes. It produces 2 sun at a time, similarly to Twin Sunflower, but at a faster rate (5 seconds)
Origins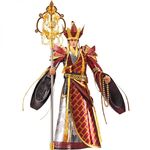 It is based on a Sunflower and Tang Sanzang, the central character of Journey to the West, a Chinese monk who is tasked with traveling to India to receive a collection of ancient Buddhist scriptures to aid in the task of spreading Buddhism in his native land.
Tang Sanzang himself is based on real-life historical monk Xuanzang who himself traveled to India and documented his journey in the Great Tang Records on the Western Regions, a Chinese text that would serve as the inspiration to Journey to the West.
Abilities
Monk Sunflower has following abilities:
Monk Flower can produce sun like Sunflower. Production speed and amount of sun can be increased by upgrading "Overclock" and "Kaiguang" respectively.
Monk Sunflower can also force sun to fall from the skies at Night levels by "Blessing" skill.
If a zombie bites Monk Sunflower with the "Tang Monk's Flesh" ability unlocked, he will be hypnotised. This ability has a cooldown and doesn't work on bosses.
Its superpower is "Tightening Sutra". When activated, the Golden Band of Sun Wukong appears above the heads of all zombies and paralyze them for 3 seconds. On newer versions affected zombies continue walking with dizzy effect on them, possibly an error.
Strategy
The Monk Flower is an extremely powerful sun-producing plant. It can generate sun very quickly throughout the entire game with the right skills. It is extremely useful in night levels as the player has way less sun available to defend the Flying Imp than during the day.
Its "Tang Monk's Flesh" ability can be used to hypnotize Digger Zombies even if they are still underground.
Gallery
Trivia