This subject currently has no proper strategy associated with it. If you have figured out a good strategy, please
add it
or the zombies will eat your brains!
Modern Day - Day 25 is the twenty-fifth level of Modern Day in Plants vs. Zombies 2. It is a Special Delivery level and Modern Day sliders are introduced in this level. After completing this level, the player receives a money bag.
The main gimmick in this level is that after the player starts the level, all the plants on the lawn are instantly incinerated, and the player must revive them using the Intensive Carrots that they receive via the conveyor-belt. That is the only plant given to the player throughout the entire level.
Difficulty
This level relies on reviving plants. The most dangerous zombies are the ones who move plants, which are the Excavator Zombie and the Punk Zombie. If Punk Zombie pushes a plant into a space where a very important plant is placed, you cannot revive that important plant anymore. Excavator Zombie is an even bigger threat as the plants given cannot kill him quickly, as well as bringing plants forward, rendering them almost useless. In addition, Coconut Cannon can only kill him with splash damage. All-Star Zombie is possibly the hardest to deal with, as he can instantly kill plants, comes out quickly, and spawns in a row where there are slider tiles, so the player should kill them quickly, though you can also revive that plant.
Waves
The small number next to the zombie icon means that zombie will always appear in that lane, with 1 being the topmost lane and 5 being the bottommost one.
| Waves | Non-dynamic zombies | Ambush zombies | Note(s) |
| --- | --- | --- | --- |
| 1 | | None | |
| 2 | 2 4 | None | Skips to Wave 3 immediately |
| 3 | 3 | None | |
| 4 | 1 2 3 4 5 2 4 | None | 100% Plant Food |
| 5 | 3 1 2 4 5 3 2 4 3 | None | First flag |
| 6 | 1 3 5 2 4 | None | |
| 7 | 1 3 5 2 4 | None | |
| 8 | 1 3 5 | None | |
| 9 | 1 1 3 3 | None | 100% Plant Food |
| 10 | 2 4 1 5 1 3 5 1 3 5 | None | Final flag |
Gallery
Trivia
This is the only Special Delivery level to give only one plant to the player, which is the Intensive Carrot.
This is the first level to show slider tiles in another world other than Frostbite Caves.
The Piñata Party on April 1st, 2016 had the same gimmick to this level. All plants were incinerated at the beginning.
The sliders look like mini swimming pools, with a lifebouy that has an arrow in it
Walkthrough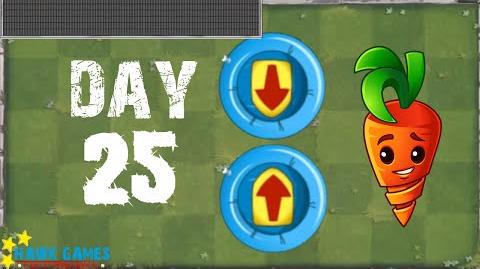 *: Removed ~: Epic Quest