Raise a Floppa - The Loop
Play Sound

For a similar version in Plants vs. Zombies 2, see Brain Busters. If you are looking for canceled mini-games, see canceled mini-games or Limbo Page.
Mini-games is a game mode found in most versions of Plants vs. Zombies. They are accessed through the main menu below Adventure Mode or through the More Ways To Play menu on the iOS, Android, PlayStation 3, PlayStation Vita, and Xbox 360 versions of the game. Mini-games are a collection of levels that have the player choose plants, use a conveyor belt to provide plants or force the player to use a set of plants to complete a certain goal. There are 20 mini-games in most versions with various unique twists, such as smaller zombies and zombies with plants for heads. Many of them are closely related to PopCap's other games (e.g. Beghouled and Beghouled Twist being based on Bejeweled and Bejeweled Twist respectively, and Zombiquarium being based on Insaniquarium). Sometimes, a mini-game will be replaced with another one on certain versions. On the iOS and Game of the Year versions, beating all the mini-games present will earn the player the achievement: Beyond the Grave. However, in mobile versions the player must buy them.
Mini-games can be found for the first time in a present dropped by a zombie in Level 3-2 of Adventure Mode. The mini-games initially available are ZomBotany, Wall-nut Bowling, and Slot Machine. The player can unlock many more mini-games after the completion of Adventure Mode. Each mini-game yields one trophy which is worth a diamond after the first completion, and a bag with five gold coins in subsequent plays.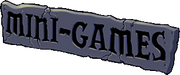 On the iOS and Android versions (including the FREE version), the mini-games mode is first unlocked in Level 2-2. The first available mini-game is Zombotany, while the rest of them must be purchased from Crazy Dave's Twiddydinkies.
In the iPad version, Vasebreaker is listed under mini-games in addition to under Puzzle Mode.
Some mini-games are more difficult versions of the levels played in Adventure Mode, which are Wall-nut Bowling (Level 1-5), Whack a Zombie (Level 2-5), Big Trouble Little Zombie (Level 3-5), and Dr. Zomboss's Revenge (Level 5-10).
List of mini-games
There is a total of 28 mini-games altogether, with some of them being exclusive to specific versions.
Gallery
Mini-game packs
In the iOS and Android versions, the mini-games must be purchased from Crazy Dave's Twiddydinkies. See Crazy Dave's Twiddydinkies#Game_Packs for more details.
Canceled mini-games 

(Unused)
Main article: Canceled mini-games/Limbo Page.
Art Challenge Wall-nut: Plays like Seeing Stars, but the player needs to instead plant Wall-nuts to make the shape of a giant Wall-nut.
Sunny Day: Big sun falls from the sky, giving 50 sun units.
Unsodded: Plays like Level 1-2 and Level 1-3 during the first playthrough, but zombies come out of all five lanes.
Big Time: Sunflowers, Wall-nuts, and Marigolds are bigger, rendering their functions more effective.
Art Challenge Sunflower: Plays like Seeing Stars and Art Challenge Wall-nut, but Starfruit, Wall-nuts, and Umbrella Leaves are needed to create the shape of a giant Sunflower.
Air Raid: A Fog level where many Balloon Zombies appear.
Ice Level: An unfinished level with no zombies, no sun falling from the sky and six pre-selected plants.
Zen Garden: Opens the Zen Garden.
High Gravity: A Roof mini-game where the gravity is high, making projectiles go fall down. However, fumes and corn cobs remain unaffected by the gravity.
Grave Danger: Graves appear every once in a while like Whack-a-Zombie and zombies come out of them every wave.
Can You Dig It?: A conveyor-belt level where the player needs to dig up Wall-nuts and plant Peashooters in their place.
Dark Stormy Night: Plays similarly to level 4-10 in Adventure Mode, but the plants and zombies are notably different.
Bungee Blitz: Plays the same as level 5-5 in Adventure Mode.
Intro: Plays the introductory sequence and leads the player to Adventure Mode.
Tree of Wisdom: Leads the player to the Tree of Wisdom.
Survival: Day (Endless): Day version of Survival: Endless.
Survival: Night (Endless): Night version of Survival: Endless.
Survival: Fog (Endless): Fog version of Survival: Endless.
Survival: Roof (Endless): Roof version of Survival: Endless.
Upsell: An advertisement on the free trial to buy the full version.
Squirrel: The player must dig up Wall-nuts to find seven squirrels (although they are not visible). Instead of one the squirrels is a zombie, and the player must find every squirrel before that zombie eats their brains. This is the only canceled mini-game that cannot be unlocked using the Limbo Page.
Mini-games that play the Loonboon theme 
Some mini-games have a theme song which is called Loonboon. They are:
Related achievements
In other languages
| Language | Name | Description |
| --- | --- | --- |
| English | Mini-Games | |
| Simplified Chinese | 迷你游戏 | |
| Traditional Chinese | 迷你遊戲 | |
| Czech | Minihry | |
| Finnish | Minipelit | |
| French | Mini-jeux | |
| German | Minispiele | |
| Italian | Minigiochi | |
| Japanese | ミニゲーム | |
| Polish | Minigrach | |
| Russian | Мини-игры | |
| Spanish | Minijuegos | |
Trivia
In update 2.4.0 of Plants vs. Zombies FREE, special daily mini-games available on the main menu called bonus games were added. There is a selection of 4 different mini-games. The first try of one for the day is free, but after that an ad needs to be watched first. The next day, bonus games will be at 4 again. When the game is opened, sometimes a message saying "Bonus game. Here's a bonus game to get your day started. Wanna play?" with "Yes" or "No" choices will appear.
In Plants vs. Zombies: Great Wall Edition, Mini-games included in Quick Play are removed in Mini-games menu, likely to avoid confusions.
See also