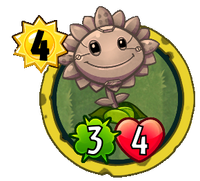 For the version in Plants vs. Zombies: Garden Warfare, see Metal Petal.
Metal Petal Sunflower is a premium uncommon plant card in Plants vs. Zombies Heroes, and a member of the 

Solar class. It costs 4

to play, and has 3

/4

. It has no traits, and its ability gives the plant hero +1

at the start of every turn, starting from the turn after it is played.
Origins
Metal Petal Sunflower is based on the Sunflower variant with a similar name in Plants vs. Zombies: Garden Warfare and Plants vs. Zombies: Garden Warfare 2.
Statistics
Class: Solar
Tribe: Flower Plant
Traits: None
Ability: Start of Turn: You get +1 this turn.
Set - Rarity: Premium - Uncommon
Card description
Time to put the metal to the petal, baby!
Strategies
With
Unlike the other Sunflower variants, Metal Petal Sunflower is fully capable to taking a few hits while fighting back, and has relatively decent stats. However, unlike Sunflower or Twin Sunflower, it does not have the Team-Up trait, and is all by itself when facing off in combat. It's suggested to use this in tandem with Briar Rose, as its high

and 3

stat will allow for a nearly untouchable army.
Against
Metal Petal Sunflower's decent stats and its ability can benefit your opponent in both clearing the board and giving extra sun to spend. Destroy it quickly, as it proves to be a frustrating plant to deal with if overlooked. Cuckoo Zombie or Tennis Champ can easily destroy Metal Petal Sunflower in one attack, allowing yourself a brain advantage over your opponent, while also preventing them from gaining one extra sun each turn.
Gallery
Old
Trivia
Its description is a reference to the phrase "pedal to the metal."
It may also be a reference to the Plants vs. Zombies comic, Petal to the Metal.