Well, hello...
FELLOW humans
Fortnite players
Well, then just people.
WELCOME TO THE LAIR OF FLOWEY!!!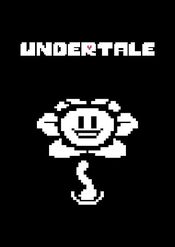 For a little background info, here it is:
"Flowey is the first major character that the protagonist encounters in Undertale. Flowey serves as the main antagonist for the majority of the game, specifically the Neutral and True Pacifist routes, and can be considered a deuteragonist for the Genocide Route. He provides an introduction to the mechanics of encounters by sharing "friendliness pellets," which are actually harmful bullets, revealing his philosophy of "KILL or BE KILLED".
Appearance

Edit
Flowey has the appearance of a conscious golden flower. His structure has a white androecium, six yellow petals, and a light-green stem. Flowey can contort his face to show various expressions and can mimic the faces and voices of other characters. He mimics Toriel and Asgore in some situations, as well as his old self at the end of the Genocide Route. He also mimics the protagonist's face before the Neutral Route's final battle.
Personality

Edit
I wonder... What happens when something without a SOUL gains the will to live? Entry Number 8, Alphys, True Lab Initially, Flowey operates under a facade of friendliness and politeness. He often greets the protagonist with southern slang, such as "Howdy!", calls himself "your best friend," and, like his father, appends polite words such as "gosh" and "golly" to the ends of his sentences. Whenever he drops this guise of friendliness, he often calls the protagonist an "idiot."
Flowey has a malevolent and cruel disposition, berating the protagonist for not following his "kill or be killed" philosophy. Despite this, he also criticizes the protagonist at the end of the Ruins if they killed any monster. He is manipulative, devious, and a cunning planner and subtle if the circumstances require it. He retains his memories between SAVEs because he was once able to SAVE. He is also shown to be extremely cowardly, as he kills his former father to appease the protagonist in a vain attempt to save his own life in the Genocide Route's conclusion."
Give Kudos to this message
You've given this message Kudos!
See who gave Kudos to this message
Community content is available under
CC-BY-SA
unless otherwise noted.