watch 03:03
The Loop (Games)
Mechanic is a Rare variant of the Engineer in Plants vs. Zombies: Garden Warfare and Plants vs. Zombies: Garden Warfare 2.
Descriptions
Stickerbook description
The Mechanic Zombie keeps all of the Zomboss gear in fire working order, or at least he thinks banging things together is fixing them.
In-game description
His fully automatic Air Impactor deals direct damage, making him a great choice for more accurate players!
Primary weapon
Mechanic's primary weapon is the Air Gun (Air Impactor in Garden Warfare 2). The facts below apply to a fully upgraded weapon.
The base close range damage per hit is 7 and the critical is 9.
The max DPS at close range is 85.1.
The base middle range damage per hit is 6 and the critical is 7.
The max DPS at middle range is 66.2.
The base long range damage per hit is 5 and the critical is 6.
The max DPS at long range is 56.8.
The weapon deals no splash damage.
The ammo in a clip is 35.
The reload time is 2.4 seconds.
The projectile speed is fast.
The weapon is full auto.
The bloom is medium.
Abilities
Weapon upgrades - GW1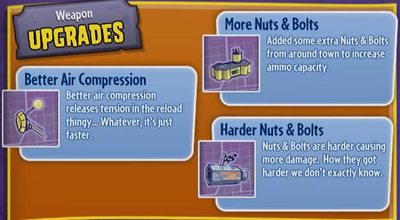 Better Air Compression
Better air compression releases tension in the reload thingy... Whatever, it's just faster.
More Nuts & Bolts
Added some extra Nuts & Bolts from around town to increase ammo capacity.
Harder Nuts & Bolts
Nuts & Bolts are harder causing more damage. How they got harder we don't exactly know.
Strategies
With
The Mechanic's Air Gun is fully automatic, making it ideal for players who either struggle to lead their shots or are otherwise more comfortable with automatic weapons. The Air Gun has two advantages over the Concrete Launcher, it has a longer range and its shots travel straight forward, allowing you to attack enemies from longer distances without the need to angle your shots, second, it allows you to protect the teleporter from its main threat, drone strikes, by shooting down the drones before they can attack without giving them much chance at dodging your shots, allowing you to deny the plant team from cutting off your team's logistical advantage without actively assaulting the teleporter. However, bear in mind that the Mechanic has a downside: recoil. His shots have recoil that almost matches an Imps, so remember to aim accordingly and take into account recoil.
Balancing changes
▲ Start/end damage was increased from 7/5 – 8/6.25.
Gallery
Plants vs. Zombies: Garden Warfare
Plants vs. Zombies: Garden Warfare 2
Trivia
His name is Al, as shown by his name tag.
He is the only Engineer variant in Plants vs. Zombies: Garden Warfare that does not deal splash damage. Instead, his primary weapon is automatic.
He wears a racing toolbox as a hat, a real mechanic's shirt and the weapon has a racing flag. It is the reason why this variant of Engineer is racing-themed.
His rate of fire was slightly increased in the Legends of the Lawn DLC to compensate for its lack of splash damage.
He can also build things faster than the other Engineer varients (Teleporter, Turrets, etc.). This can be useful if your team needs a teleporter ASAP.

He can also plant bombs faster in Main Street, use this to your advantage if the plant team is strategically prepared.   
Template:GardenWarfare Zombies Template:GardenWarfare2 Zombies
Community content is available under
CC-BY-SA
unless otherwise noted.