This subject currently has no proper strategy associated with it. If you have figured out a good strategy, please
add it
or the zombies will eat your brains!

For the Plants vs. Zombies 2 versions, see Magic-shroom, Witch Hazel, and Pumpkin Witch.
The Magic line (魔术系; pinyin: móshù xì) is a Class S Brave plant line in Plants vs. Zombies: All Stars which was introduced in the 1.0.100 update.
The line consists of Magic-shroom (魔术菇; pinyin: móshù gū), Witch Hazel (金缕梅女巫; pinyin: jīn lǚ méi nǚwū), and Pumpkin Witch (南瓜巫师; pinyin: nánguā wūshī). They all specialize in locking enemies in stasis balls.
Magic-shroom attacks by throwing cards, Witch Hazel attacks by firing a red laser, and Pumpkin Witch attacks by lobbing small pumpkins.
Origins
The members of the Magic line are based on Magic-shroom, Witch Hazel, and Pumpkin Witch from Plants vs. Zombies 2 respectively.
Each tier is based on these plants due to them each having a theme involving or connected to magic.
Almanac entry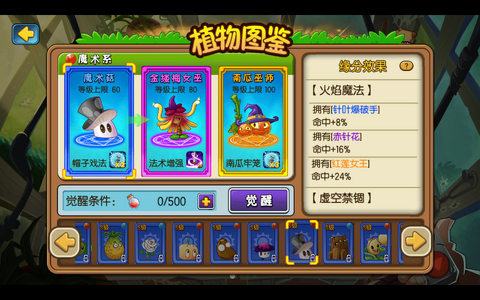 Ways to obtain
Maigc line can only be obtained through special offers or 2500-gems chest. Additional Puzzle Pieces can be obtained through Soulmates Puzzle system.
Abilities
Abilities are unlocked by tiering up, while their effect is increased through star leveling.
Tier
Effect
Description
1

Hat Trick
[Active]
Locks 2 enemies in stasis balls for 2 turns.
They can't attack and be attacked.
2

Spell Enhancement
[Passive]
Gains a 40% boost to attack after each Hat Trick for 3 turns.
3

Pumpkin Cell
[Passive]
Hat Trick locks an additional enemy (3 in total).
Star leveling
After unlocking the Magic line, additional puzzle pieces can be used to upgrade it, which increases its stats and ability LVs.
Note: Despite the fact that abilities of this line can't be upgraded, in-game description still mentions such possibility.
Stars
Puzzle Pieces& required
Upgrade
Coins
Stars
Puzzle Pieces& required
Upgrade
Coins
1
0
+298
0k
1
40
+159
100k
2
2
+99
1k
2
40
+881
121k
3
4
Crit+104
4k
3
50
Crit+341
144k
4
8
+117
9k
4
50
+919
169k
5
15
+482
AbilityLv2
16k
5
60
+175
AbilityLv4
196k
1
15
+420
25k
1
60
+1004
225k
2
20
+124
36k
2
70
+191
256k
3
20
Crit+223
49k
3
70
Crit+460
289k
4
30
+688
64k
4
80
+189
324k
5
30
+135
AbilityLv3
81k
5
80
+239
AbilityLv5
361k
Soulmates
Magic line stats will be increased if these specific plants are unlocked.
Gallery
General
Magic-shroom
Witch Hazel
Pumpkin Witch
Trivia
Community content is available under
CC-BY-SA
unless otherwise noted.