For the version in Plants vs. Zombies: All Stars, see Magic-shroom.

Magic-shroom (魔术菇; pinyin: móshù gū) is a plant in the Chinese version of Plants vs. Zombies 2. He throws playing cards at zombies which deal 50 damage per shot forward and backward, but not at the same time.
Puzzle Pieces for this plant can be collected through daily sign-in reward for Android users in August 2015. He was released in the Sky City update for iOS, along with Zorrose and Bambrook.
Origins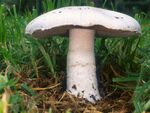 Magic-shroom's color scheme is very similar to the Agaricus mushroom. The "magic" part comes from his magic hat-shaped cap and the cards that surround the said cap, which are often used for many magic tricks.
His name is a Chinese "play-on-words" in which (魔术 Mó shù), meaning magic, almost sounds like (蘑菇 Mó gū), meaning mushroom. When combined, it forms (魔术菇 Mó shù gū), a play on words of the aforementioned Chinese characters.
Almanac entry
魔术菇

Magic-shroom

魔术菇可以发射扑克攻击前后方的僵尸。

特点:可以攻击前方或者后方的僵尸。
植物特征:蘑菇家族
在成为耀眼的魔术菇之前,魔术菇只不过是蘑菇村落中最普通的圆脑袋蘑菇,但是这一切都在它接触魔术世界的时候改变了。"对!我就是一个耀眼的明星!"魔术菇熟练地耍着手中的扑克,这是他认为自己最英俊的姿态。不要愚蠢地以为魔术菇的帽子里面藏了一只兔子,掀开它你就完蛋了!
魔术菇 (Magic-shroom)
Sun cost: 175
DAMAGE: Moderate
RANGE: Front & Back
RECHARGE: Mediocre
魔术菇可以发射扑克攻击前后方的僵尸。
特点:可以攻击前方或者后方的僵尸。
植物特征:蘑菇家族
在成为耀眼的魔术菇之前,魔术菇只不过是蘑菇村落中最普通的圆脑袋蘑菇,但是这一切都在它接触魔术世界的时候改变了。"对!我就是一个耀眼的明星!"魔术菇熟练地耍着手中的扑克,这是他认为自己最英俊的姿态。不要愚蠢地以为魔术菇的帽子里面藏了一只兔子,掀开它你就完蛋了!
In English:

Magic-shroom throws playing cards back and forth at zombies.

Special: It attacks zombies at front and back
Plant features: mushroom family

Before becoming a talented mushroom, Magic-shroom was merely a very normal mushroom in Mushroom village. It is only after he was introduced to the world of magic that allowed him to transform into the mushroom he is now. "I am a shining star!" exclaimed Magic-shroom, as he practices shuffling the playing cards in his hands, which he considers being his coolest gesture. However, it is not wise to think that there is a rabbit inside his magic hat. If you peek into it, you'll be screwed!
Upgrades
Plant Food effect
When given Plant Food, Magic-shroom summons five large top hats on random tiles on the lawn, creating illusions of zombies that consists of Basic Zombies, Conehead Zombies, and Buckethead Zombies, and sometimes Gargantuars. These zombie illusions are respective to the world the level is in and fight for the player.
Costumed
He will only spawn Buckethead Zombies and Gargantuars. In the 1.6.2 update and up, he now reduced the chance of spawning a Gargantuar and instead, he will now spawn Conehead Zombie illusions as well.
Level upgrade
Level
Upgrades
Description

Quick Hands
魔术快手
It now has a 10% chance to throw out two cards in a row instead of the usual one.

Combat Training
战斗训练
Magic-shroom gains 50% more attack power and health (150% of initial).

Swiftness
迅捷
The previous 10% chance of throwing out two cards has been increased from two to three cards.

Cell Activation
细胞活化
Magic-shroom gains another 50% more attack power and health (200% of initial).

Ability Awaken
能力觉醒
Magic-shroom may be boosted when planted.

Fighting Power
战斗能力
Magic-shroom gains another 50% more attack power and health (250% of initial).

Golden Card
金色卡牌
It may throw 4 golden cards that deal damage to zombies in an area.

Fighting Power
战斗能力
Magic-shroom gains another 50% more attack power and health (300% of initial).
Strategies
Magic-shroom is not very strong at battling zombies, as most other offensive plants are more powerful than him. However, he can shoot backwards and can be used against Prospector Zombies and Flying Imps.
His plant food ability is decent, as the illusional zombies can be extremely powerful, which outclasses Hypno-shroom's Plant Food effect as Hypno-shroom can only create one hypnotized zombie at a time and can't affect zombies that don't eat plants. Five to ten level 4 Magic-shrooms connected by Tile Turnips are very deadly as the player can have a huge wave of illusion zombies to overwhelm the approaching zombie horde.
It is a horrible idea to use him in Kongfu World, as the bugged Weapon Stands can transform the zombies made by Plant Food against the player. His cards can be deflected by Hammer Zombies and Nunchaku Zombies. Drinking Monk Zombies can also easily deal huge damage to even Level 3/4 zombies. Also, never use him in levels with Explorer Zombies, Torch Kongfu Zombies, or Torch Monk Zombies unless you can extinguish their torches as somehow their torches can also instantly kill any illusion zombies. In Sky City, this also applies against Double-Cabin Aircraft Zombies.
Balance changes
Update 1.6.2
▼

Illusions that reach a Weapon Stand will get reverted

▼

Reduced chance to spawn Gargantuars

▲

Increased chance to spawn Conehead Zombies
Gallery
Plants vs. Zombies Wiki
has a
gallery
for Magic-shroom.
Trivia
He shares the same idle animation with Sun Bean and the aquamarine Bowling Bulb.
For some reason, in the upgrade menu, he has Rotobaga's level upgrade icons.

However, since the Lost City update, Magic-shroom has new level upgrade icons.

He first appeared on the Plants vs. Zombies: All Stars website in May 2015.
In the 1.6.0 update, he and Zorrose had their sound effects added.
He always shoots the ace of spades card.
The zombies do not have a hypnotized coloration, but they still fight for the player. This is because they are simply illusions created by the Magic-shroom.
Since 1.6.2 version, Magic-shroom Plant Food's effect has been nerfed:

In Kongfu World, if an illusion zombie managed to reach a Weapon Stand, he will somehow get reverted.
He has less of a chance to spawn a Gargantuar and instead spawn Conehead Zombies more frequently.

Any illusional zombies that are in Cycloque's range can be attracted. The same is also happen to hypnotized zombies and pumpkin-head zombies.
Zombie illusions can be kicked towards the player's house by raptors in Jurassic marsh and can be killed by perfumed dinosaurs for some reason.
Illusion Gargantuars will not attempt to toss their Imps.
Since Kongfu World has no specific Gargantuar, he reuses the original Gargantuar, instead of the three other Gargantuars already present.
In his seed packet and Puzzle Piece, he does not have any cards surrounding his cap.
His cards cannot hurt a Barrel Roller Zombie's barrel. Instead, the cards will fly over the barrel and hurt the Barrel Roller Zombie pushing the barrel or another zombie if the Barrel Roller Zombie has been defeated.

Even though Magic-shroom cannot destroy Barrel Roller Zombie's barrel, he will keep trying to attack it.