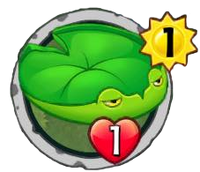 For other versions, please refer to the Lily Pad (disambiguation) page.
Lily Pad is a triassic rare plant card in Plants vs. Zombies Heroes and a member of the

Smarty class. It costs 1

to play and has 1

. It has the Amphibious trait, and its Fusion ability gives the plant played on it the Amphibious trait and Conjures a leafy card. Its closest zombie counterpart is Killer Whale.
Origins
It is based on the plant in Plants vs. Zombies and Plants vs. Zombies 2 with the same name and appearance, with its appearance more closely resembling its Plants vs. Zombies 2 counterpart.
Its Fusion ability is a reference to its use in the two aforementioned games, while its attack animation is a reference to its idle animation in Plants vs. Zombies 2.
Statistics
Class: Smarty
Tribe: Leafy Plant
Trait: Amphibious
Ability: Fusion: A Plant played on this gets Amphibious. Conjure a Leafy card.
Set - Rarity: Triassic - Rare
Card description
When Neptuna's Triassic Invasion flooded Hollow Earth with vast new oceans, Plants quickly evolved to survive.
Update history
Update 1.24.6
Strategies
With
Lily Pad is an amazing Fusion card that works well during all phases of the game. Its main ability makes the plant you need much harder to remove against opponents with insufficient or no aquatic defenses, especially Rustbolt, Professor Brainstorm, and Z-Mech, while its cheap cost lets you do so without spending too much sun. Its low health is the only downside, but that doesn't matter too much since it is a Fusion card and also costs very little, unless you wish to play a 2

card like Doubled Mint right on turn 2.
Since the plant gets the Amphibious trait rather than simply be on the aquatic lane, it isn't completely useless even if you play Lily Pad outside the aquatic lane, as the plant can still synergize with Navy Bean and Bog of Enlightenment. However, you will have to move the plant to synergize with the latter, which only Citron and Beta-Carrotina can do.
While its main ability is great, its Conjuring ability is not insignificant either, as many leafy cards are either powerful or have useful abilities. Since many of them are meant to be played early to mid-game like Doubled Mint, it is better to Fuse it during those phases if you want the leafy card to be more helpful. It also goes well with Dino-Roar plants, since Lily Pad's ability grants protection against many threats, allowing them to safely do their job, and it activates their ability even if the plant itself isn't played on it. The only exception of the first benefit is Veloci-Radish Hunter, who will not be able to make a copy of itself on the aquatic lane, severely lowering its offensive capabilities.
There are several good non-Amphibious Smarty plants to play on Lily Pad, such as Go-Nuts, Jelly Bean, and Shooting Starfruit, who not only are dangerous by themselves, but also get much harder to remove with the Amphibious trait. However, there are many other plants in other classes that do equally well, or better on Lily Pad, not to mentioned the support cards available in them.
Against
You can't really counter Lily Pad's abilities, especially since both abilities don't boost stats or harm your zombies. Z-Mech, Rustbolt, and Professor Brainstorm should be more careful, as they don't have access to Amphibious cards normally, excluding Imp-Throwing Gargantuar whose Swabbies can only stall the plant at best. If you are playing as any of the three, you should prepare some cards to deal with Amphibious threats in case Lily Pad is played. However, they should be especially wary of Apotatosaurus, as the aforementioned heroes mainly play tricks to counter Amphibious threats, which Apotatosaurus is immune to. Thankfully, Rustbolt and Z-Mech also have plant-moving cards like Black Hole and Sumo Wrestler that not only allow them to deal with the plant (including Apotatosaurus) on the aquatic lane, but also bypass the

Untrickable trait.
If Lily Pad is played by itself, it can easily be destroyed with cards like Conga Zombie, Rolling Stone, or even Neptuna and Immorticia's superpowers if they are in your hand. However, it will not be that way in most cases due to Lily Pad's cheap cost.
Gallery
Trivia
It shares many similarities with Pumpkin Shell.

It shares the same animations with Pumpkin Shell.
It has the same rarity with Pumpkin Shell.
It is obtained from the same set with Pumpkin Shell.

When Fusing a plant with Lily Pad, one can hear the sound Galacta-Cactus uses when activating its ability.
Its dying animation slightly resembles one of its idle animation in its Plants vs. Zombies 2 counterpart.
See also
Community content is available under
CC-BY-SA
unless otherwise noted.