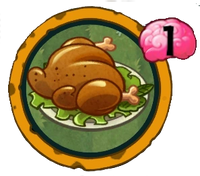 Leftovers are a triassic uncommon zombie trick card in Plants vs. Zombies Heroes and a member of the

Hearty class. It can also be Conjured by Turkey Rider. It costs 2

to play, and its ability gives all zombies on the field +1

/+1

. Its closest plant counterpart is Storm Front.
It is based on the type of food in real life with the same name, specifically, the remains of Turkey Rider's turkey.
StatisticsEdit
Class: Hearty
Tribes: Gourmet Pet Trick
Ability: All Zombies get +1/1.
Set - Rarity: Triassic - Uncommon
Card descriptionEdit
Zombies love them almost as much as brains.
Update historyEdit
Update 1.8.23Edit
Update 1.10.14Edit
Set - Rarity change: Super-Rare → Token
Update 1.24.6Edit
Set - Rarity change: Token → Triassic - Uncommon
▲ Tribe added: Pet
StrategiesEdit
Treat this trick as a weaker, yet cheaper version of Monster Mash. Just like Monster Mash, Leftovers work especially well when you have a zombie on most, if not all lanes.
Because it is a pet trick, The Smash can use this to activate the abilities of Cat Lady and Zookeeper. However, it faces competition against Camel Crossing in terms of pet synergy, which is cheaper and more importantly, gives more health, which is arguably more crucial to pet decks than strength. In fact, Leftovers generally face competition against Going Viral, which costs 1 brain more, but gives all zombies the

Frenzy trait and has two extra abilities which help.
If you see a Turkey Rider, be careful of destroying it as it gives your opponent this card, which can boost other zombies. In other cases, there is really not much you can do to go against Leftovers, except playing as many plants on the field as possible to block.
Unlike Healthy Treat and Sugary Treat, it was not shown in the collection screen when first released.

However, when Turkey Rider and Mayflower were added to the collection, Healthy Treat and Sugary Treat were removed from the collection screen as well.