"

Grab your water wings! We're going to get wet.

"

—Crazy Dave
Last Stand I was the first Last Stand level of Pirate Seas in the Chinese version of Plants vs. Zombies 2. To complete this level, the player had 3000 sun to spend on a strategy to defeat the zombies. This level was identical to Pirate Seas - Day 14 in the international version, save for the starting sun amount. When this level was finished for the first time, the player got a star.
Dialogue
(Penny appears)
Penny: It's low tide and the waves are coming in.
(Crazy Dave appears)
Crazy Dave: Grab your water wings! We're going to get wet.
(Crazy Dave and Penny leave)
Difficulty
Several Raiding Party attacks occur during this level, forcing the player to use more offensive and defensive plants.
A lot of offensive plants and at least one defensive plant is required to deal with the Zombie Parrot and Barrel Roller Zombie.
Waves
The small number next to the zombie icon means that zombie will always appear in that lane, with 1 being the topmost lane and 5 being the bottommost one.
Waves
Non-dynamic zombies
Ambush zombies
Note(s)
1
1 5
None
2
2 3 4
None
3
2 4 1 5
Raiding Party!
4
1 5 3
None
5
2 4 1 5
None
6
2 3 4
Raiding Party!
7
1 1 5 5
None
8
1 5
None
9
1 1 5 5 3
None
10
1 1 5 5 2 4
Final wave.
Raiding Party!
Strategy
Plant two columns of Bloomerangs as your main offense. Plant a column of Bonk Choys in front of them to have strong attacks on the ambush and summoned zombies. And finally, plant a column of Wall-nuts to protect all of them from Seagull Zombies, ambush and summoned zombies. If a plant is taken away by a Zombie Parrot, replace it with another.
Gallery
Walkthroughs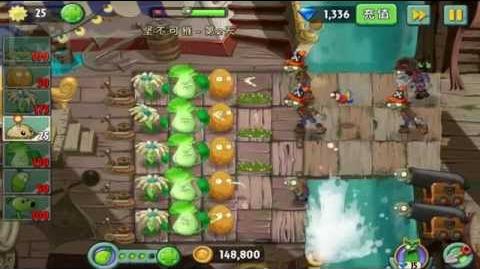 * A gate can be unlocked with a key after completing this level
^ Conjectural name