Last Stand: Night is the second puzzle of Last Stand. It is featured in the mobile versions of Plants vs. Zombies and in Plants vs. Zombies: Journey to the West. The player is given 3000 sun to start with. There are nine graves.
Strategies
This one can be a bit of a mind boggler, but it's not too difficult. Your layout should look like this:
F
FFGG
Empty space
FFGG
F
Remember to take away the graves too, but leave three. This is because more will spawn if you leave any less than that. Replace the Pumpkins as they get degraded, and also plant Pumpkins on the Fume-shrooms in the top and bottom lanes.
It will end like this: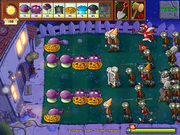 F
FFGG
Empty space
FFGG
F
Your only worries with this (as long as you replace the Pumpkins when needed to) are the Football Zombies, which you can just fend off with your Hypno-shrooms and Doom-shrooms.
Another strategy
This one is not too hard if you have got the right strategy.
Begin with this:
SSSEEE[F][G]
SSSEEE[F][G]
SSSEEE[F][G]
SSSEEE[F][G]
SSSEEE[F][G]
Slowly add more Fume-shrooms to the empty spots and remove all graves, except the three at the very front. Replace Pumpkins as necessary (after every wave, sell all undamaged Pumpkins and replace them so they are fresh for next wave).
Related achievements
Walkthrough
Trivia
The player can use Gloom-shroom on this level even if he or she has not bought it.
Community content is available under
CC-BY-SA
unless otherwise noted.