Last Stand: Fog is the fourth puzzle of Last Stand. It is featured in the mobile versions of Plants vs. Zombies and in Plants vs. Zombies: Journey to the West. The player is given 4000 sun to start with and the player must survive five flags.
Strategies
The only way this strategy can go wrong is with a stray Digger Zombie or a Jack-in-the-Box Zombie explosion at an inconvenient time.
Start like this:
ECESM
ECESMP
ECEEM
ECEEM
ECESMP
ECESM

(italic means the plant is protected by a Pumpkin)
Add Starfruit into the empty spaces as you progress. Due to the frequent appearance of Screen Door Zombies, you will not being able to use plants that ignore the screen door and attack directly, making the Magnet-shroom pretty much a must. Due to a column of Magnet-shrooms, the chances of a Digger Zombie getting to the back and eating your plants is small. The only way this can fail is if a Digger somehow gets all the way back or if a Jack-in-the-Box Zombie explodes and destroys the Magnet-shrooms. It could also fail if you don't replace the Pumpkins, but that are the only times you'll need to pay attention if you're doing the strategy correctly.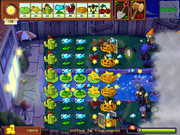 Another strategy is have your lawn like this at the end:
CSS(M)(M)
CSS(M)
CSSTT
CSSTT
CSS(M)
CSS(M)(M)
C = Cactus
S = Snow Pea
T = Starfruit
M = Magnet-shroom
() = Pumpkin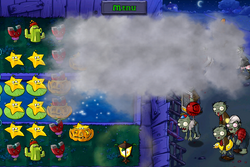 Start with by only using Cactus, Snow Pea, and Lily Pad (optional: Magnet-shroom protected by Pumpkins). When you get sun, then plant Starfruit and Magnet-shrooms protected by Pumpkins. Then, you can do anything you want. The fog is not an issue because it does not do anything and plus, this setup is pretty much going to get never beaten.
Another strategy that is very simple is:
(C)SSS(S)
(C)SSS(S)
(C)SSS(S)
(C)SSS(S)
(C)SSS(S)
(C)SSS(S)
C = Cactus
S = Starfruit
() = Pumpkin
Add more Starfruit as you progress. Move the Pumpkins to the very front Starfruit in any lane.
Related achievements
Walkthrough
Trivia
Community content is available under
CC-BY-SA
unless otherwise noted.