Last Stand: Day is the first level of the Last Stand puzzle mode pack. It is featured in the mobile versions of Plants vs. Zombies and in Plants vs. Zombies: Journey to the West. The player is given 3000 sun to place their defenses.
Strategies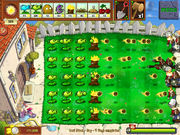 Plant two columns of Repeaters in the first and second columns and a column of Torchwoods in the third column. Once you get 1000 sun, shovel up your Torchwoods, plant them in the fourth column, and add another column of Repeaters. It should look like this when you are done.
R R R T
R R R T
R R R T
R R R T
R R R T
A cheaper way to do it is to have your lawn like this at the third or fourth flag:
R R T C
R R T C
R R T C
R R T C
R R T C
R = Repeater
T = Torchwood
C = Chomper
Note: When possible, make a "minefield" of Potato Mines.
Related achievements
Walkthrough
Community content is available under
CC-BY-SA
unless otherwise noted.